Dallasite mineral is a Vancouver island's origin Basalt, Epidote and quartz composed volcanic lava rock. When cut, reveals a wonderful mostly black and white abstract like pattern. Obviously same or similarly composed stones found all over the world, but the distribution of the various minerals make different pattern. According to geology, the underwater eruption caused lava flow cooled down rapidly, what made the quartz freeze, or stop merging.
The specimen is abundant on the southern seashores, but jewelry grade stone finds, takes a little experience.
This pendant cut to free form shape, to show best what nature designed, polished on lapidary diamond wheels with and eight step method by using finer and finer grit wheels up to 50.000 smoothness, what makes the stone brilliant shiny. Both sides polished, domed face and flat back. Set with sterling silver 21 gauge square and half round wire wrapping, what focuses to show the entire size of the stone, yet holds it firm and secure in place. The necklace is a silver plated smooth snake chain, with your choice of 18", 20", 24", lengths, included in the listing price.
stone size: 47.3 x 22.2 x 7.5 mm 73.30 ct
overall pendant height:62.7 mm
We always have raw Dallasite stone on stock, custom size and shape cutting available. Sorry we don't sell raw stone, we use it all.
Free shipping to Canada and USA.
Fast US bond shipping by USPS via chit-chat express, daily. No custom delays or tariffs involved, most cases 4-5 business days delivery time. Tracking provided by email within 24 hours of confirmed payment.
International shipping also by USPS, or by ASENDIA if destination available, a one time charge of $9.25 (CAD) added at checkout.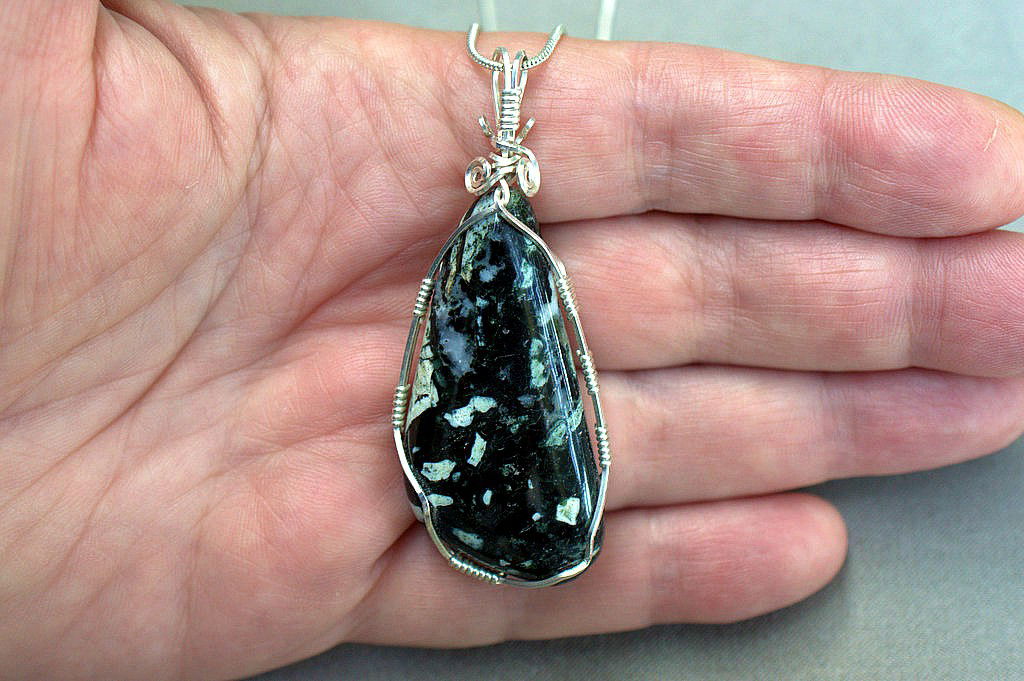 Abstract pattern, Dallasite mineral