Light purple color natural Amethyst February birthstone crystal pendant. Quite a large size Brazilian origin earth mined quartz variety gemstone handmade jewelry. Designed shape, cut from a boulder of raw stone, polished on diamond wheels to a brilliant shine and extremely smooth surface finish. The crystal has various shades of purple, and designed to show a part of white quartz, to make it a truly unique jewelry . Set with sterling silver 21 gauge square and half round jewelry wire wrapping, what focuses to show the entire size of the crystal, yet holds it firmly and secure in place. Hangs on an optional length sterling silver Italian made smooth 1.05 mm thick snake chain necklace, your choice 18", 20", 24" long. Select your necklace length at checkout.
stone size: 53.1 x 23.6 x 8.1 mm 81.30 ct.
overall pendant height: 66.1 mm
Spiritually Amethyst considered as an all healer stone, the most effective crystal for healing people, even animals and plants. Protect against psychic and panic attacks and repeals bad wishes.
The dept of color in the quartz crystal depend on the amount of the manganese mineral in it.
Free shipping to Canada and USA.
Raw Amethyst still available for custom shape and size cutting.
see other shape Amethyst pendants cut from the same stone here.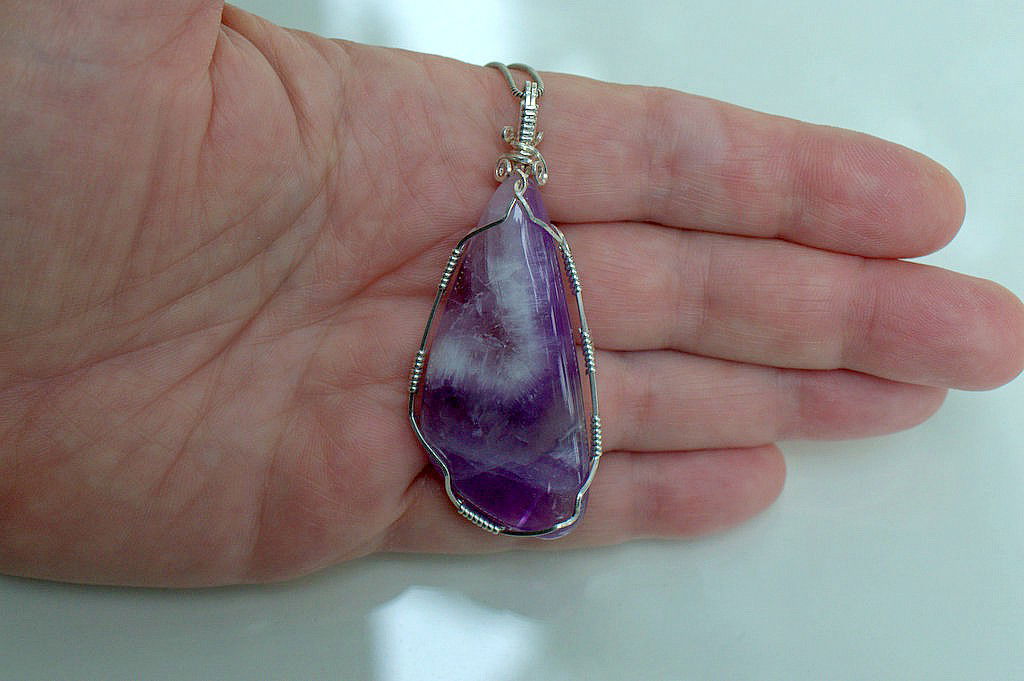 Amethyst February birthstone, handmade necklace jewelry