Imagine that, you have a once living ancient tree, that might have fed the dinosaurs millions of years ago as a jewelry. Petrified wood indeed was very much alive way before us human appeared on this planet. It might have died, or got destroyed by nature's disaster, and buried under the soil by time. Remaining in its original shape, our earth's most abundant mineral silicate took over, by forming it to rock.
This pendant cut from a locally dug out piece, (unfortunately not whole trunk)cut and polished in our shop. We didn't use any treatment neither coloring nor any kind of alteration to make it more attractive, this is the natural state we found it. Designed to free form shape after the lighter color pattern, polished on lapidary diamond wheels up to 50.000 grit glass like bright shiny finish. Set with sterling silver 21 gauge square and half round jewelry wire wrapping, a stylish modern method, shows the entire size of the stone, yet holds it firm and safe in place. The pendant comes with a silver plated 20" x 1.5 mm snake chain necklace. Other lengths 18" and 24" also available.
stone size: 39.5 x 22.8 x 8.2 mm 53.20 ct.
overall pendant size including setting: 53.3 mm
Please make note at checkout for preferred length necklace.
A limited quantity of raw petrified wood still in stock. Custom shape and size cutting available.
A one time shipping charge added at checkout. To Canada $4.40 USA $6.25 Rest of the world $20.35
US bond shipping by USPS via chit-chat express, no custom delays or tariffs involved. Fast shipping, most cases 4-5 business days to US destinations.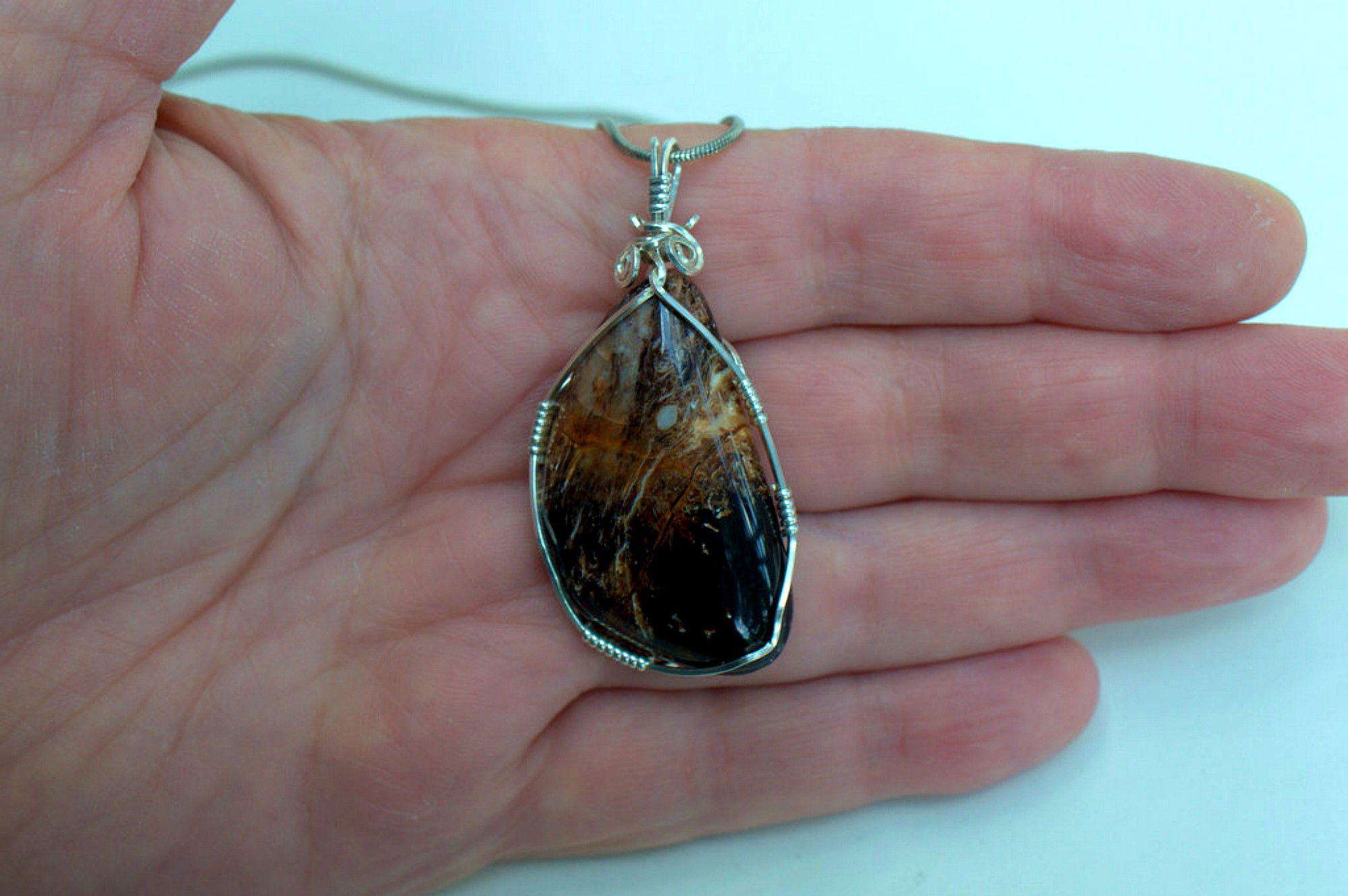 Ancient tree, Petried wood stone necklace, oval pendant