Most Arizona mineral specimen has an unusually high energy. This Crysocolla pendant is an interesting variation of white or milky quartz and copper mineral. Two different chemically composed stone, what rarely mixing, or if it does, just traces of quartz visible. This stone is the opposite, the quartz shows, and the blue is just a pale inclusion what can't even seen close up. We purchased the raw rock at a local rockhound round-up from the collector. Unfortunately he didn't revel the exact location ( that's his secret ) of the site, so that's all the information what we know about the origin.
Designed and cut to free form shape, hand polished on diamond wheels up to 50.000 grit smoothness and bright shine. Set with sterling silver triple lined round and half round jewelry wire wrapping and with a silver plated 20" x 1.5 mm snake chain necklace.
stone size: 36.5 x 19.9 x 8.7 mm 47.05 ct.
Raw stone still on stock of this specimen, custom shape and size cutting available, with optional setting. We can drill it too, if you prefer to hang it plain.
Free shipping to Canada and USA. For international shipping rates, click here, or contact us. A cost effective alternate shipping method might be available, please email destination info for quote.
We have a large collection of raw jewelry quality crystals and minerals ready to cut to pendants, if you looking for a specific gemstone, don't hesitate to drop us a line, we might have your stone.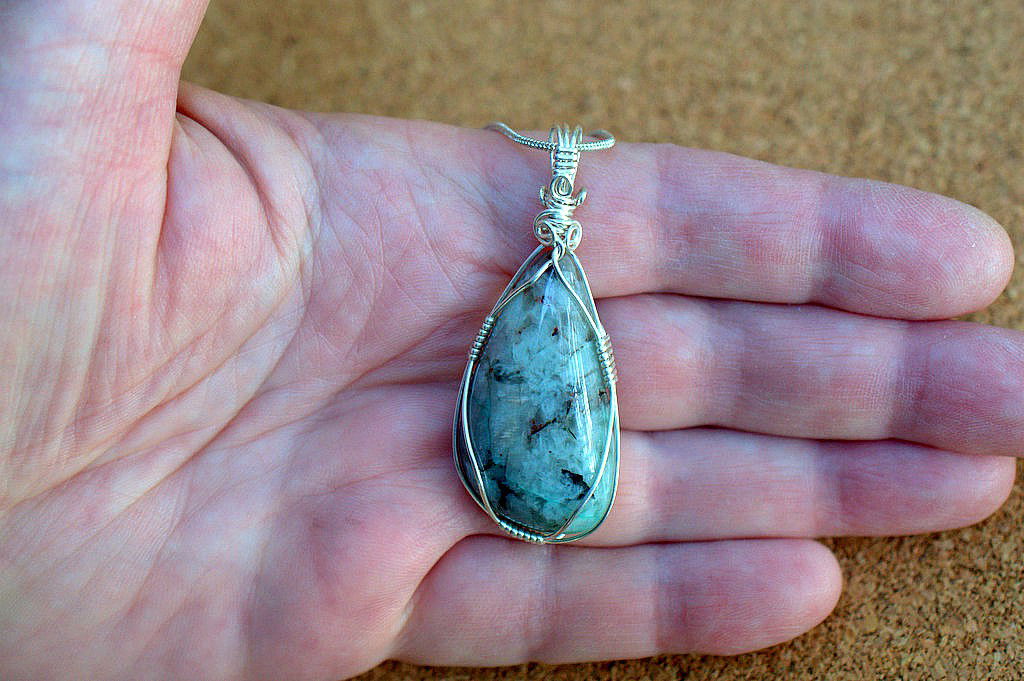 Arizona mineral, Chrysocolla pendant