One of the most sought after baby blue agate necklace, this gemstone is so delicately banded that one can't resist to keep her eyes away from it. Blue lace agate is a variety of the silicate crystal Chalcedony. Agates widely available all over the world, found in all kinds of environments, in many colors and stunning patterns. Worn as jewelry since human history began, carried as an amulet or talisman for protection and healing purposes. Blue lace agate is not really considered as a healing stone, it's more of a spiritual and emotional attitude crystal. Called the stone of communication, with the meaning of, giving confidence to the wearer to express thru feelings in words, without regretting or hurting anyone's emotion. The best stone for women in business of representation or at the field of law.
The stones origin Namibia Africa, we acquired it direct by the quarry, (see it here) slabbed it in our shop. After selecting for quality and for the nicest pattern, designed it for jewelry. This large stone pendant is cut to designed shape, by following the bands to show the best of the specimen. Polished on diamond wheels up to 50.000 grit smoothness and a brilliant shine. Set with sterling silver 21 gauge square and half round modern and trendy style jewelry wire wrapping, what focuses to show more of the stone than the setting. Hangs on a 20" x 1.5 mm silver plated snake chain necklace. The length of the necklace optional, shorter 18" or longer 24" also available upon request. ( please make note at checkout for preferred length)
stone size: 42.1 x 23.2 x 7.7 mm 45.50 ct.
Raw uncut blue lace agate still available, for custom shape and size cutting, with optional setting. We can drill it too.
Free shipping to Canada and USA.
International shipping also available at estimated USPS rates, please see info at top right highlighted menu button. Multiplied item purchases, only one shipping charge applies. A cost effective alternate shipping method with ASENDIA, might be also available, please contact with destination info, not all countries supported.
A large collection of jewelry quality crystals and minerals from all over the world, ready for cutting available. If you looking for a specific gemstone, don't hesitate to contact us, we might have your stone.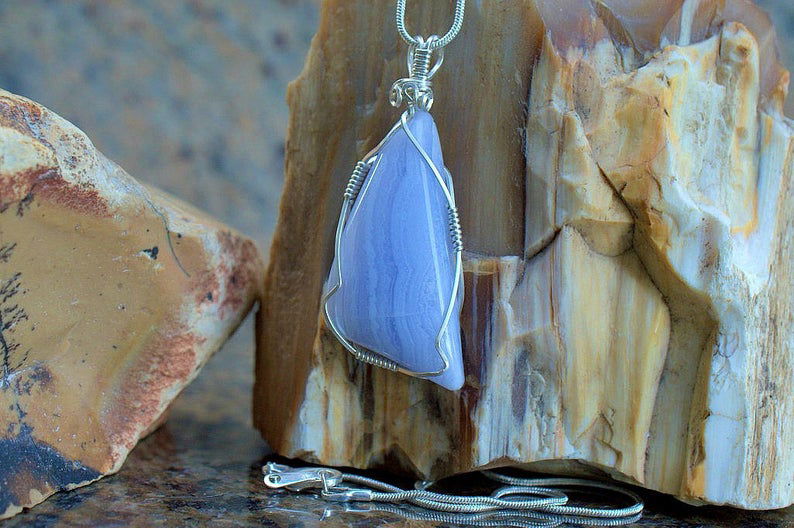 baby blue agate necklace, large stone pendant