Large size semi circle shape banded onyx jewelry. One of the most worn black stone pendant since ancient history. Carried by warriors, believed to be a shield talisman,in battles, against fear of darkness and nightmares in homes. In the modern world Onyx wasn't considered as a gemstone. the last century's industrial advancement brought many stone specimen on surface, and the mass amount of variety, used mostly in construction and home decoration, because of its durability. Fortunately collectors and jewelry makers always appreciated it as a gem, and kept up the tradition.
This pendant is actually a variety of the so-called sardonyx, there are red-brown lines running along what inclusion of red agate or Carnelian. Sardonyx had an additional meaning in the dark ages, it meant a protection against incantations and sorcery, and made the wearer fearless.
For any reason you look for Onyx jewelry, this nice size stone is really shows what this specimen is about. Just like all onyx, has an excellent shine, drilled with a 1 mm hole, set with sterling silver 21 gauge round jewelry wire created hanger, a modern style method, what shows the stone's entire size, yet holds it firm and secure in place. A silver plated 20" x 1.5 mm snake chain necklace included with the purchase of the pendant. Because it's a large size, a perfect piece for tall person. Longer 24" necklace also available, please make note at checkout for preferred length.
stone size: 41.1 x 23.5 x 4.7 mm 41.90 ct.
Free shipping to Canada ans USA. For international shipping, see estimated USPS rates here.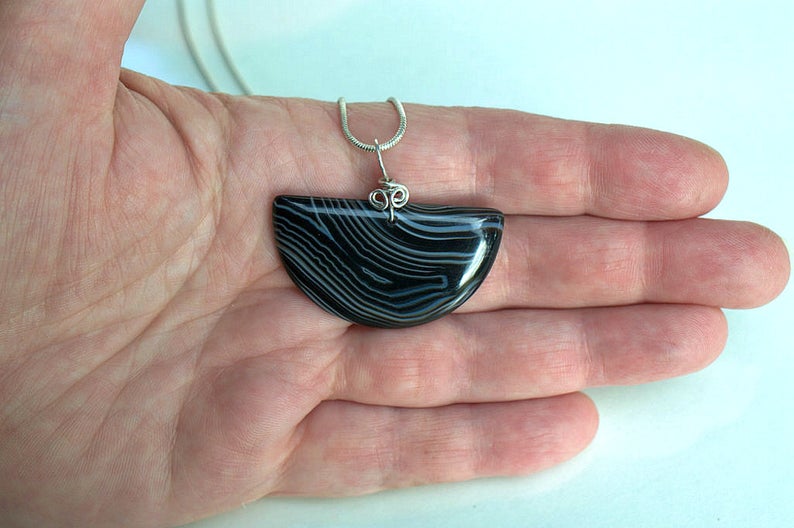 Banded Onyx jewelry, black stone pendant