Hand carved and hand polished abstract stone carving small size black cat figurine on a round shape brown limestone base. Carved from black Chlorite stone, what is a type of soapstone, might be a little bit harder and dryer, and takes an excellent silky shine. Sealed and buffed with natural non toxic bee wax. Superstition says black cat is a bad luck, well.. just ask one who have or owned one before. They are magnificent creatures, awesome pets, end definitely don't have nothing to do good or bad luck. This abstract stone carving is a my own fantasy design for black cat figurine collectors, or for a present, what I can send directly with gift card. I can also personalize it by carving name or a short message whatever fits on the base stone for free of charge. Custom carving also available for larger or smaller sizes in any style. Signed and dated.
5.75" x 2.75" x 2.75"
14 x 7 x 7 cm.
0.577 kg.
Free shipping to Canada and USA. Local pick up or delivery available (please contact to arrange)
Worldwide shipping with USPS, or a cost effective ASENDIA available, please contact for destinations and rates.
An approximated shipping rate calculation at top right menu button, estimated by USPS.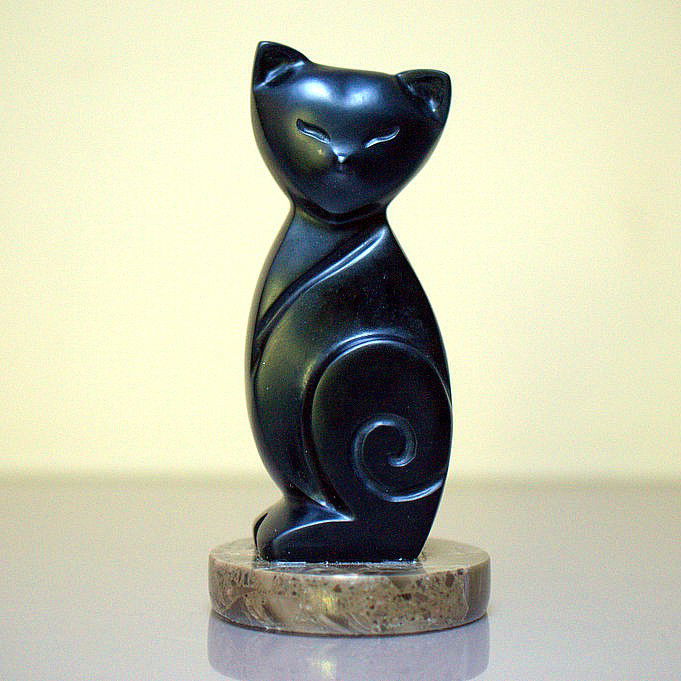 Black cat figurine, abstract stone carving