A decent size gemstone, black Jade necklace. Besides that it's only black, you see and feel the beauty of this stone instantly, when first time hold it in your hand. The pristine energy what it radiates, runs through the body, and you know, you have something special.
Black Jade called the etheric bodyguard, creates a defending shield around the wearer, repels negative energies such as anger, aggression, and protects against fear and violence. If you looking for a metaphysical and spiritual guard, black Jade is the only stone you need.
As a stone cutter, I can describe the feeling to work with this stone. The polishing process made up with an eight step method, by doubling the smoothness of the diamond wheel by each step. The way this stone comes alive is a joy to watch, not to mention the touch what feels silkier and silkier.The shape of the stone is a bit of a Sagastone logo, it's not our original idea, but we find it can give the gem a little extra special. Set with sterling silver 21 gauge square and half round jewelry wire wrapping, a safe and trendy modern style method, focuses to show the entire size of the stone, yet holds it firm in place. The necklace is also sterling silver Italian made smooth 1.05 mm thick snake chain, with optional 18", 20", 24", lengths. Please make note at checkout for preferred length.
stone size: 40.3 x 23.4 x 7.2 mm 59.45 ct.
overall pendant size including chain ring, 54.3 mm
total weight without necklace 14.76 gram.
I can personalize the stone by engraving name or short message to the backside free of charge.
We cut the stone from raw slab (see it here), a limited quantity still available for custom shape and size cutting.
Free shipping to Canada and USA. International shipping available at estimated USPS rates. Please contact prior order with destination, a cost-effective
alternate shipping method might be available with ASENDIA, but not all countries supported.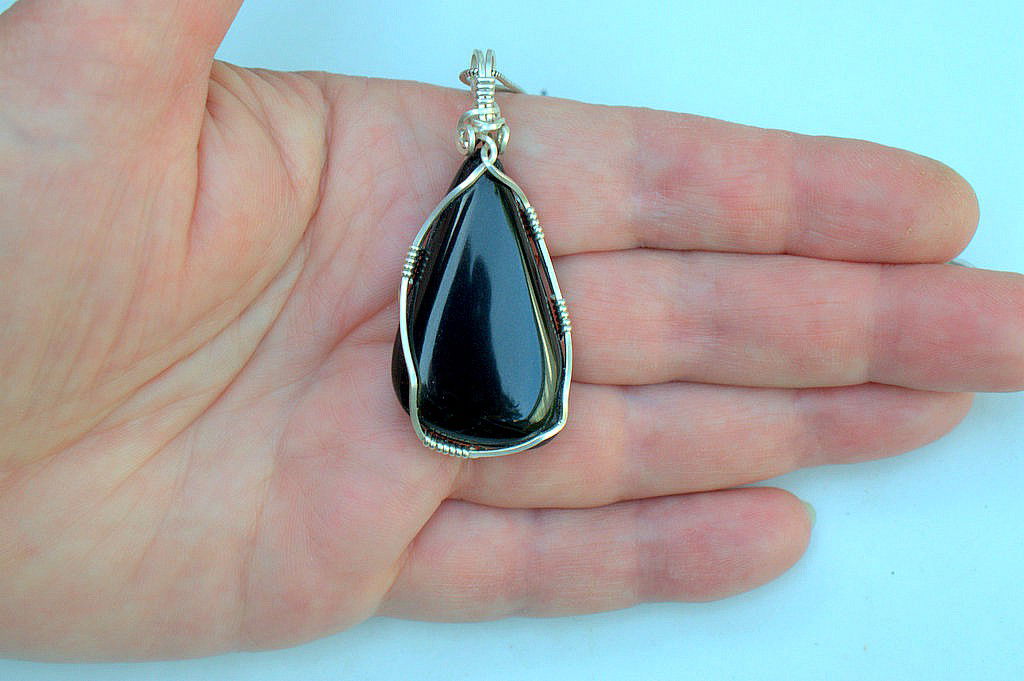 Black Jade necklace, the bodyguard talisman