Vancouver island's own black pattern gemstone, found exclusively by the seashore near Victoria, and titled as the third unofficial stone of British Columbia. Dallasite categorized as a jasper, but only because chemically similar to that specimen. In fact, it's a stand alone mineral, composed by under water volcanic eruption,contains basalt,epidote, and quartz. Large pieces are hard to find, usually collected as pebbles, and polished in rock tumbler. This specific stone was large enough to cut to a nice size pendant. See the slab here, to get an idea about the raw find.
The pendant designed to an oval shape by following the best pattern. Polished on diamond wheels up to 50.000 grit to a brilliant shine and glassy surface. Set with sterling silver 21 gauge square and half round wire wrapping, a modern style method, focuses to show the stone's entire size, while holds it firm and secure in place.
The raw stone is our own collection, more will be available soon for custom shape and size cutting.
stone size: 41.5 x 26.1 x 6.8 mm 73.70 ct. overall pendant size 59.1 mm
Dallasite mineral jewelry is very unique, and not many available online. We use only 100% natural stones, no chemicals or harmful materials used for creating
Also have a large collection of locally prospected jewelry quality semi-precious gemstones, minerals, crystals. If you're after a specific stone, don't hesitate to contact us, we might have what you look for.
Free shipping to Canada and USA. For international shipping, contact prior order to find best rate.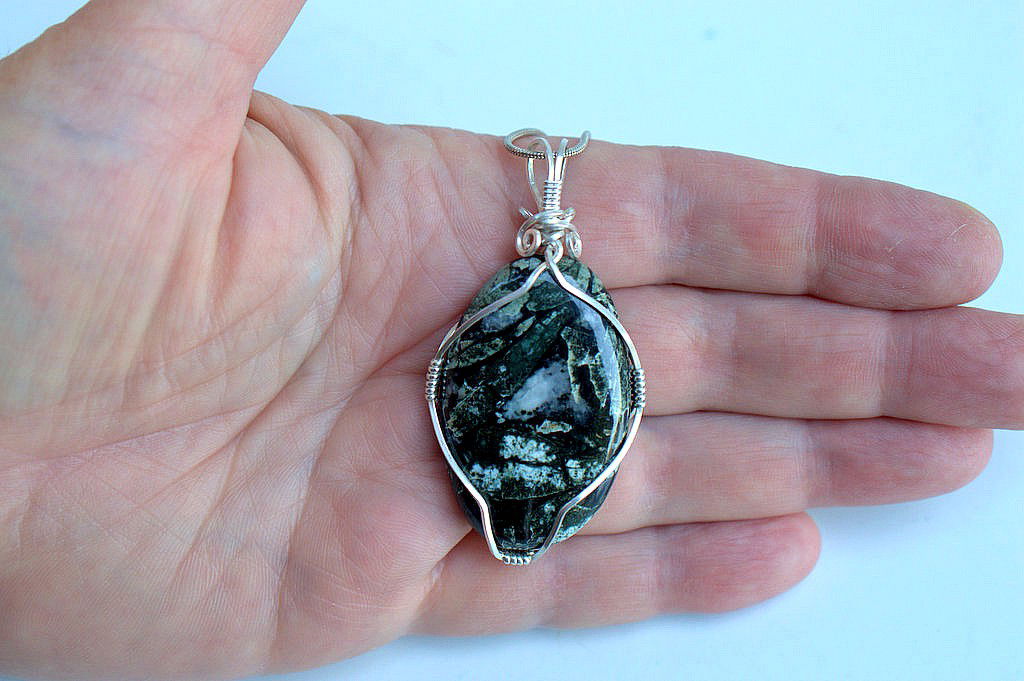 Black pattern gemstone, Dallasite mineral jewelry