New hand carved black stone Salmon carving, talisman pendant with drilled pin and silver plated necklace. The stone is natural Haida Argillite. The carving and polishing created in our shop, original work and idea. This unique stone found only at the west coast of British Columbia Canada. The carving is a native inspiration, but not belong to any cultures. The stone is satin polished, not too bright, and needs a little moisturizing time to time to avoid drying out and possible cracking, a drop of olive oil rubbed in last for months, even a lot's of hand touch when wearing it, helps the stone stay fresh. It's a unique piece of Argillite pendant jewelry, no other piece exist, suit both sexes.

stone size; 48.9 x 30.4 x 9.3 mm 77.50 ct
A limited quantity of raw Argillite still available for custom shape and size cutting.
A one time shipping charge added at checkout. To Canada $4.40 USA $6.25 Rest of the world $20.35


Known as Black silt or slate , Argillite is a very fine grained sedimentary rock, essentially Lithified mud or clay Argillite occurs many places around the world, but this deep black solidified Argillite comes only from Haida Gwaii northern Canada
The argillite at Slatechuck Creek is unique, and occurs no-where else in the world.Currently, only Haida have the right to quarry it,and it's location is a carefully guarded secret.
Here is where the confusion about argillite stems from.Many people will tell you only the Haida, or other First Nations, have the right to use or purchase it. This is incorrect. The truth is quite simple:
. Only the Haida have the right to quarry argillite from Slatechuck Creek.
. It is not illegal to buy Slatechuck Creek argillite in raw form the Haida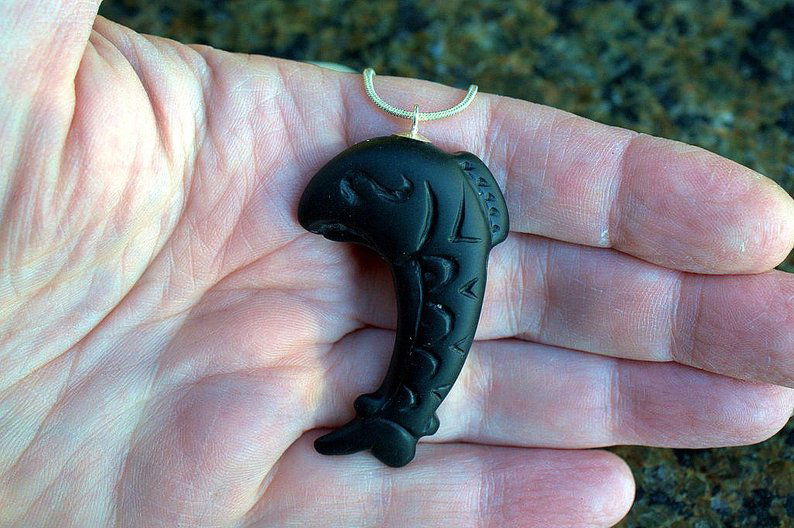 Black stone Salmon carving, Argillite necklace