Wear it, rub it, or just carry it, a Kyanite blue color crystal pendant will benefit you many ways. This aluminium silicate mineral known and used since historic times. Named by the Greek kyanos, what refers to its deep blue streaks. In the industrial world, known for its excellent heat resistance, used in porcelain products,cutting and grinding tools, also in break shoes for cars and railroads.
In the metaphysical world, known as one of the two natural mineral on earth, that's not accumulate or retains negative energy, (the other is Citrin). A most recommended crystal by emotional healers, to repair damaged relationships,and helps in communication between disharmonious people.
This specimen's origin, California USA. It's a so-called matrix stone,Kyanite in native pegmatite and quartz host rock. Slabbed from a natural boulder, selected for color and best grade quality, designed and cut to a free form shape. Polished on lapidary diamond wheels up to 50.000 grit smoothness and shine,set with sterling silver 21 gauge square and half round jewelry wire wrapping, and with a silver plated 20" x 1.5 mm snake chain necklace.
Both sides polished, domed face and flat back.
Raw Kyanite stone still in stock, custom size and shape cutting available.
stone size: 39.8 x 22.1 x 7.9 mm 70.40 ct.
Free shipping to Canada and USA. International shipping estimated at USPS rates, see it here.
For US bond shipping, we use USPS via chit-chat express, no custom delays, or tariffs involved. Delivery time in most cases 4-5 business days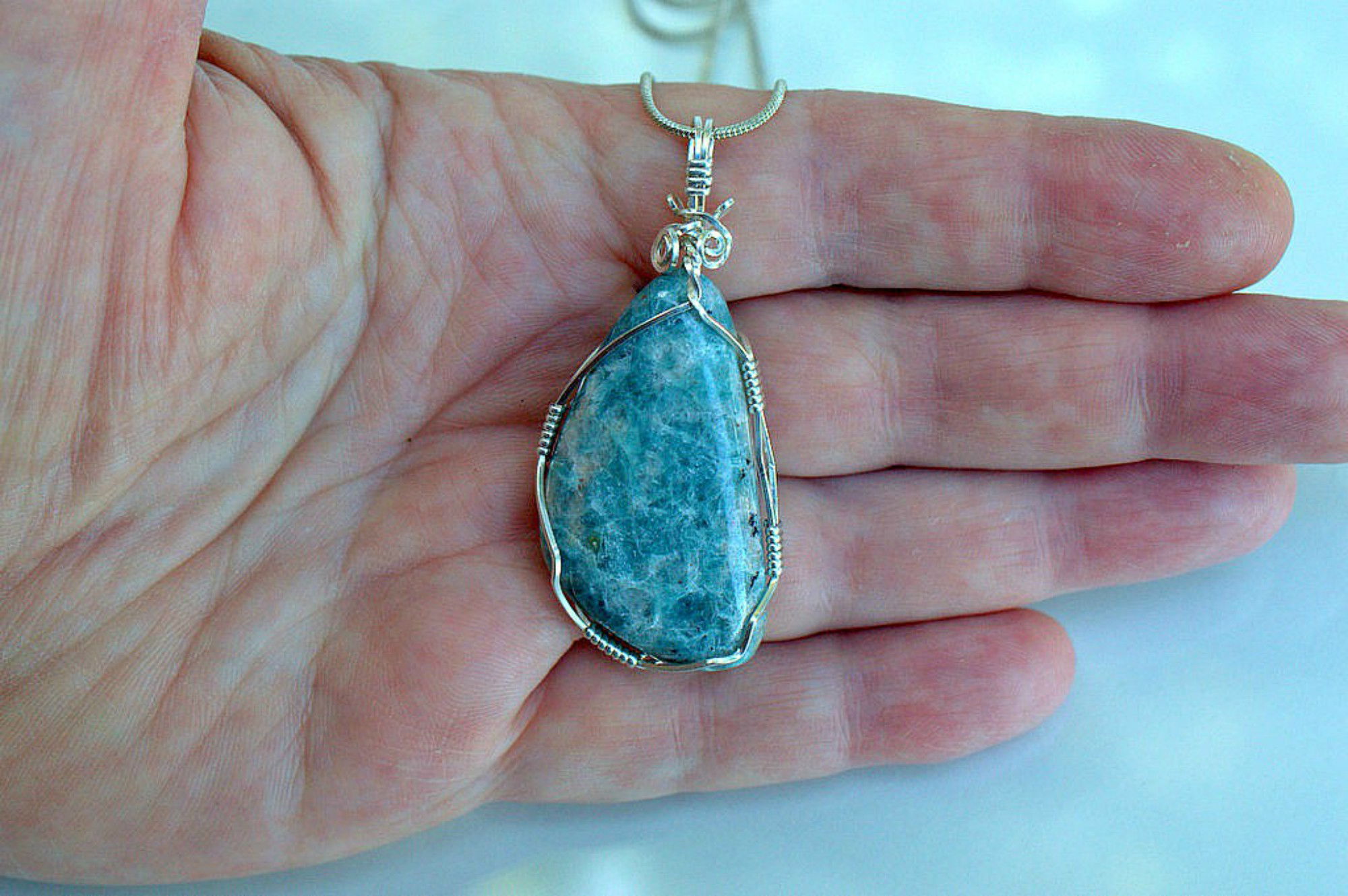 Blue color crystal pendant,Kyanite silver set stone jewelry.