Many gemstones, just like this blue common opal, became known to the world with the connection to the place where prospected. This magnificent stone classified in two categories, fire or color play, or common opals. Both mineraloid composed by silica in hydrated amorphous form. Precious opal found in Australia and Ethiopia are the most known for its spectacular color play, however common opal is a translucent variety usually a one color stone. This blue common opal is found in the Andes mountains specifically in Peru.
We acquire our raw stones direct by the quarry, it's called the secondary quality opal, what means, it contain other sedimentary elements,and when cut to cobochons, can show other colors or matrix. After cutting the raw stone to slabs, we select it for quality, eliminate visible cracks and debris. When designing a pendant, we always look for a part where a scenic like pattern will show.
Common opal is a relatively soft stone, it takes a beautiful polish. This pendant polished with an eight step method on different smoothness of diamond wheels up to 50.000 grit, to achieve this brilliant shine.
The setting is a simple, yet stylish process, using 21 gauge sterling silver square and half round jewelry wire for the wrapping. This method holds the stone firm in place, and showing the stone in full size. A silver plated 20" x 1.5 mm snake chain necklace included with the purchase of the pendant, and the length might be changed for shorter 18", or longer 24" for your preference. Please make a note at checkout for necklace length.
stone size: 45.4 x 28.4 x 7.2 mm 72.95 ct.
We have new supply coming in every two months or so, custom shape and size cutting is available, however due to the nature of the stonethe pattern and color can't be guaranteed.
We have over a thousand pounds of raw jewelry quality crystals and minerals, if you looking for a specific stone, please contact us, we might have it.
A one time shipping charge added at checkout. To Canada $4.40 USA $6.25 Rest of the world $20.35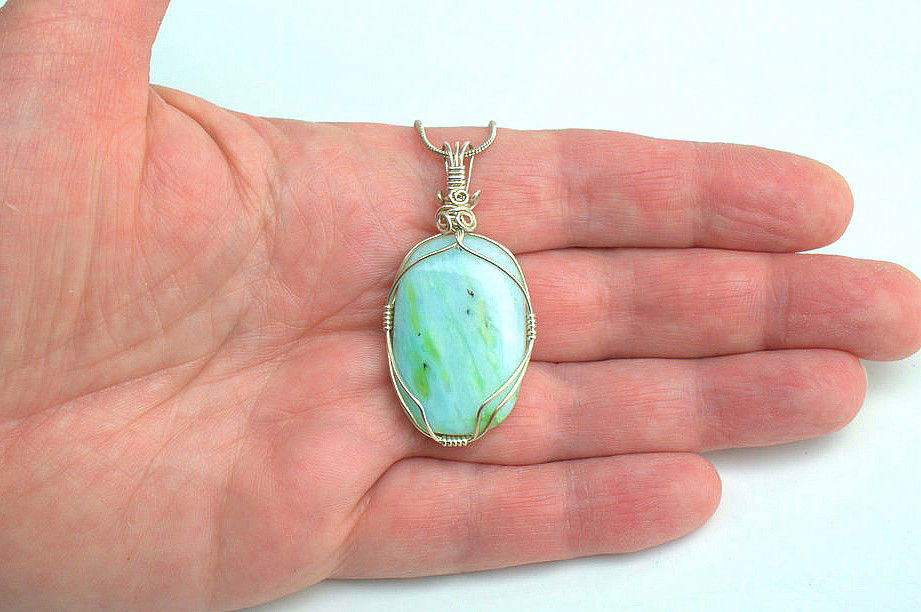 Blue common opal, Peruvian mineral