Just one look at this sky blue crystal necklace, and you feel the calmness instantly what this gemstone radiates. The delicate parallel stripe pattern makes it one of nature's most beautiful creation. No wonder it's named in the metaphysical world as the stone of friendship, just can't give a better present to those who stood with us along the way. A blue lace agate pendant represents loyalty and trustworthiness in relationships, not only received, but giving it too. This gemstone has a long history as jewelry and talisman, it worn in time as a stone to show direction, or a compass to meet long dreamed goals. It isn't a typical healing stone, but its soothing energy certainly helps to bear with pain and tolerate injury related issues.
The raw stone's origin Namibia, arrived to our shop in one large piece,( see it here ) cut to slabs, selected for quality and designed to pendant, than polished on diamond wheels to a bright shine and a glass like smoothness. The setting is a modern style wire wrapping method, focuses to show the stone as much as possible, yet holds it firmly in place. Sterling silver 21 gauge square and half round jewelry wire used for the setting, and for the chain ring.
A 20" x 1.5 mm silver plated snake chain necklace as pictured included with the purchase of the pendant. Sterling silver Italian made smooth 1.05 mm thickness snake chain also available in 18" 4.09 gr. CDN$10.50, 20" 4.54 gr CDN$12.80, 24" 5.45 gr CDN$ 14.75 wholesale price. please contact if you'd liketo upgrade.
stone size: 45.2 x 24.3 x 5.4 mm 43.25 ct.
Raw blue lace agate gemstone from the same stone still available for custom shape and size cutting. Custom cutting price negotiated prior cutting, depend on size and setting, but about the same price as this pendant.
We have a large collection of jewelry quality crystals and minerals, ready for cutting. If you looking for a specific stone, please don't hesitate to contact us, we might have your stone.
Free shipping to Canada and USA. For the rest of the world shipping also available, please check estimated rates at top right highlighted menu button. A cost-effective alternate shipping method might be available with ASENDIA, please contact with destination info, not all countries supported.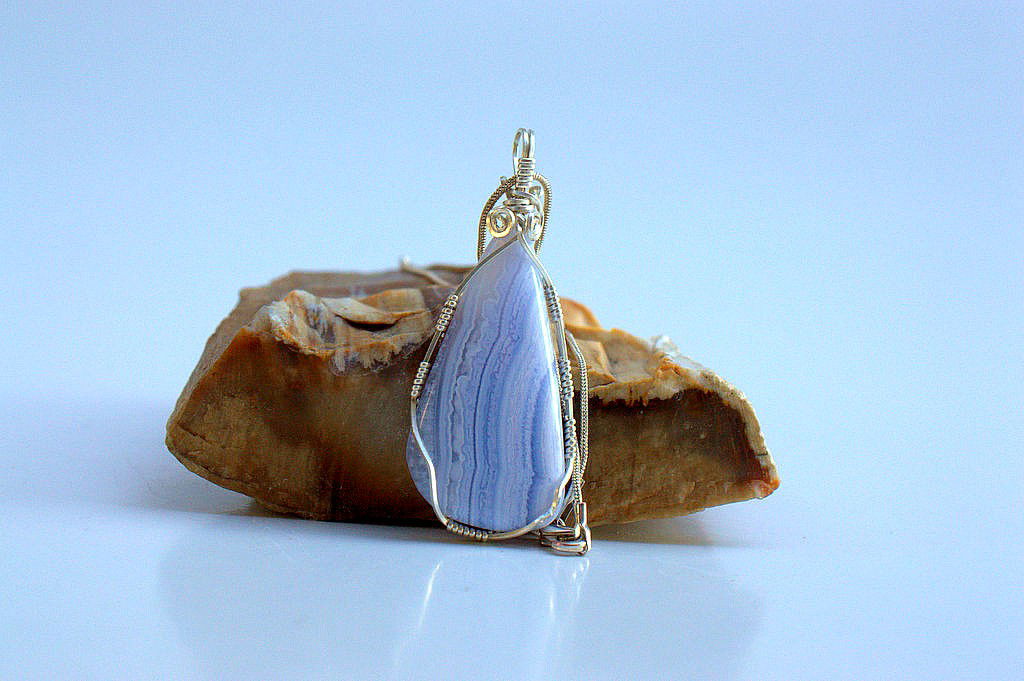 Blue crystal necklace,lace agate pendant