When I'm cutting blue lace agate, the focus obviously the pattern, but the color plays just as much factor to show the true beauty of this specimen. I like the baby blue to be somewhere in the middle of the pendant, that makes it kind of innocent and so desirable. The parallel stripe's flow changes angle, what I placed to the bottom part to enhance the dept. It's a nice long quite a large size designed shape natural gemstone, polished on diamond wheels up 50.000 grit brilliant shine. The wire wrap setting is 21 gauge sterling silver round and half round twist cap style and simple design, focuses more to the stone than the setting. A 1 mm hole is drilled to the stone and the wire thread through for safe hanging. This icy blue looking agate specimen is one of the most sought after jewelry stone. It uses goes back to the Neolithic agates, became popular in the 14th century, and the trend just keep continuing even today. Like all agates, belong to the chalcedony family, hard and dense, and takes an outstanding bright polish. The delicate parallel blue lines radiates soothing calmness, gives the wearer confidence, to speak up, earned its name as the stone of communication. The pendant comes with a silver plated snake chain necklace 20" x 1.5 mm.
Raw natural blue lace agate still available for custom size and shape cutting, with preferred type of setting.
Stone size: 47.7 x 12.6 x 8.4 mm 34.60 ct.
see the raw stone here, what we used to cut this pendant
A one time shipping charge added at checkout. To Canada $4.40 USA $6.25 Rest of the world $20.35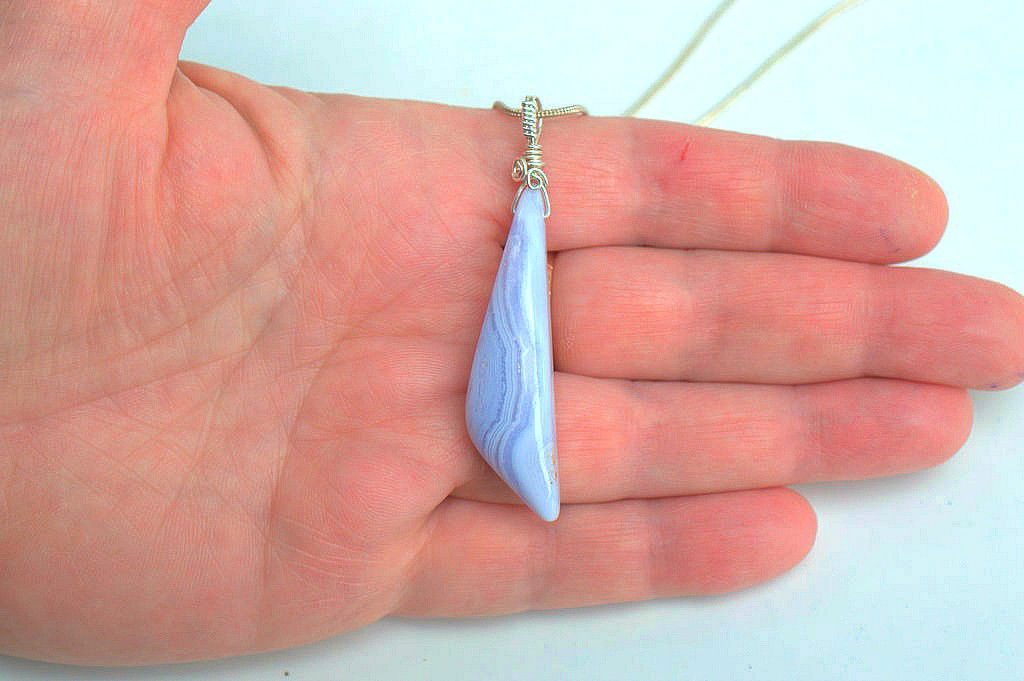 Blue lace agate gemstone jewelry