The bright light reflection in this blue mystic crystal real, the images not altered. Labradorite known for centuries especially by the Inuit people, who calls it as the light of the Aura Borealis descended into the stone. The reason the metaphysical world calls it mystic, no need explanation. The enigmatic hue, makes the eyes wonder to see something out of space like image, what might hold a hidden message.
It's a favored stone to wear as talisman. It said Labradorite opens the subconscious mind, and help us to see dreams concerning future plans, even if it's something out of ordinary, can transform it to real reachable path.
The stone is 100% natural from the east coast of Canada. Designed after the nicest pattern, cut to a teardrop shape, polished on lapidary diamond wheels toa bright shiny finish. Drilled with a 1 mm hole, set in arrowhead style, with sterling silver 21 gauge round jewelry wire created hanger, and with a silver plated 20" x 1.5 mm snake chain necklace. The pendant might be more stylish, if set upside down, but the blue sheen looks brighter this way.
stone size: 28.1 x 17.8 x 7.3 mm 31.20 ct.
overall pendant size including setting: 40.1 mm
We stock up raw Labradorite mineral every other months, custom size and shape cutting available, however pattern (reflection) can't predicted, since all stones has different color and hue, also it depend on the angle of the cut.
Free shipping to Canada and USA.
US bond shipping by USPS via chit-chat express, fast and tracked, 4-5 business days delivery time in most destinations. International shipping by estimated first class rates, please see it here.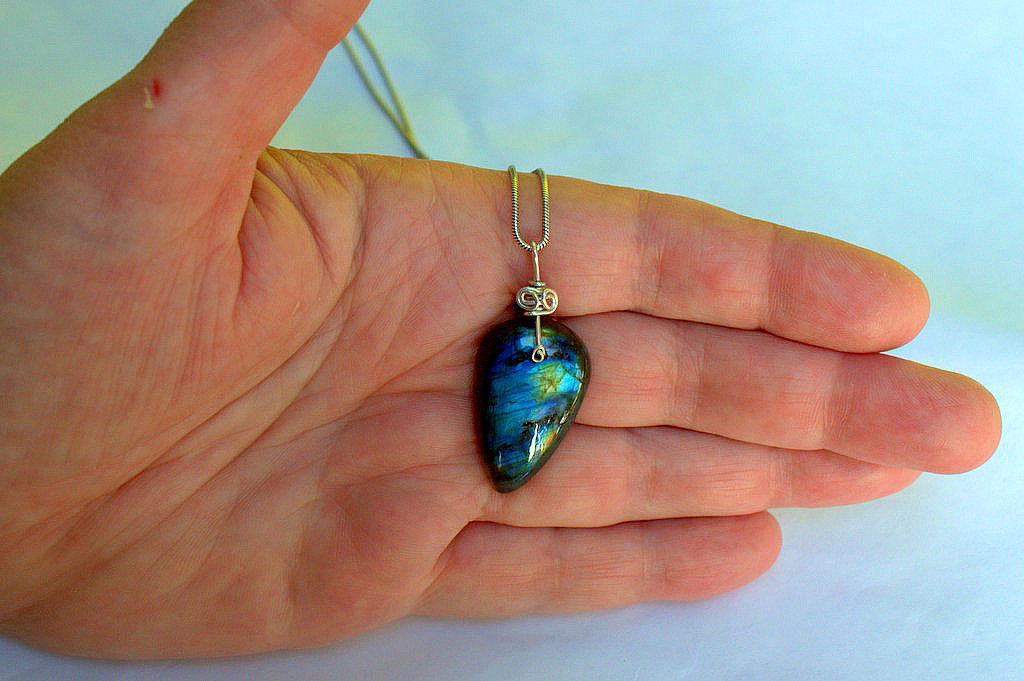 Blue mystic crystal, Labradorite pendant