This blue stone jewelry is cut from a natural phosphate mineral. Apatite is a sedimentary stone with the hardness of five on the Mosh scale one to ten. Forming usually in marine environment, means dried out ocean or sea basin, varies in color depending on conditions and organic deposits.
Blue Apatite considered as a deep spiritual stone, best known for its cleansing the aura especially the mental body. Often associated with psychic and paranormal abilities, also called as the dream stone to access the subconscious mind for solving problems. As a protection stone, it said helps to keep the sub-conscious from outside influences.
Deep blue heart or teardrop shape pendant, set in arrowhead style. The sterling silver 21 gauge triple lined round and half round wire wrapping designed to show more of the stone than the setting. This modern style method hold the stone in place firm and fits perfect with the today's trend. The pendant comes with a silver plated 20" x 1.5 mm snake chain necklace. Shorter 18" or longer 24" necklace is also available, please make a note at checkout for preferred length. .925 sterling silver Italian made smooth 1.05 mm thickness snake chain necklace also available in all three lengths, please contact us for wholesale pricing, if you wish to upgrade.
stone size: 30.8 x 22.9 x 5.7 mm 49.60 ct.
We have over a thousand pounds of raw jewelry quality crystals and minerals, for custom size and shape cutting, if you looking for a specific gemstone, drop us a line, we might have your stone.
Free fast shipping to Canada and USA. International shipping available, estimated rates at top right highlighted menu button. A cost effective alternate shipping method might be also available with ASENDIA, please contact with destination info, not all countries are supported. These rates are about 50% of the estimated USPS, and Canada post cost.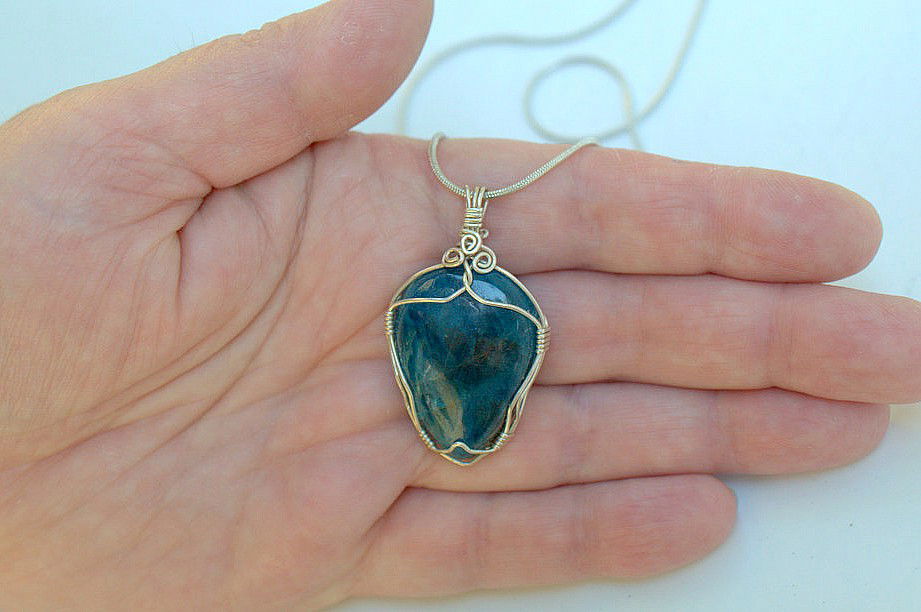 Blue stone jewelry Apatite pendant necklace