A bright shiny quite a large and thick size Blue Tiger eye necklace natural mineral to attract good luck, free from style gemstone pendant set with sterling silver 21 gauge round and half round jewelry wire created hanger, and with a silver plated 20" x 1.5 mm snake chain. The stone is drilled with 1 mm hole, the wire goes through for safe setting. Designed and cut from raw untreated natural stone, polished on diamond wheels up to 50.000 grit. The setting is a stylish simple design shows more of the stone than the setting.
Stone size: 57.9 x 18.7 x 8.5 mm 69.80 ct.
Blue Tiger eye, also called Hawk's eye is most recognized for bringing money, psychic protection, courage, luck confidence, willpower, clear thinking and speaking to show us the personal power in life that we have.
Raw Tiger eye stone still available, for custom shape and size cutting.
The pendant also available with sterling silver Italian made smooth 18", 20", 24" x 105 mm snake chain necklace, please inquire about wholesale necklace prices.
Free shipping to US and Canada. For International order, please contact for rates and options.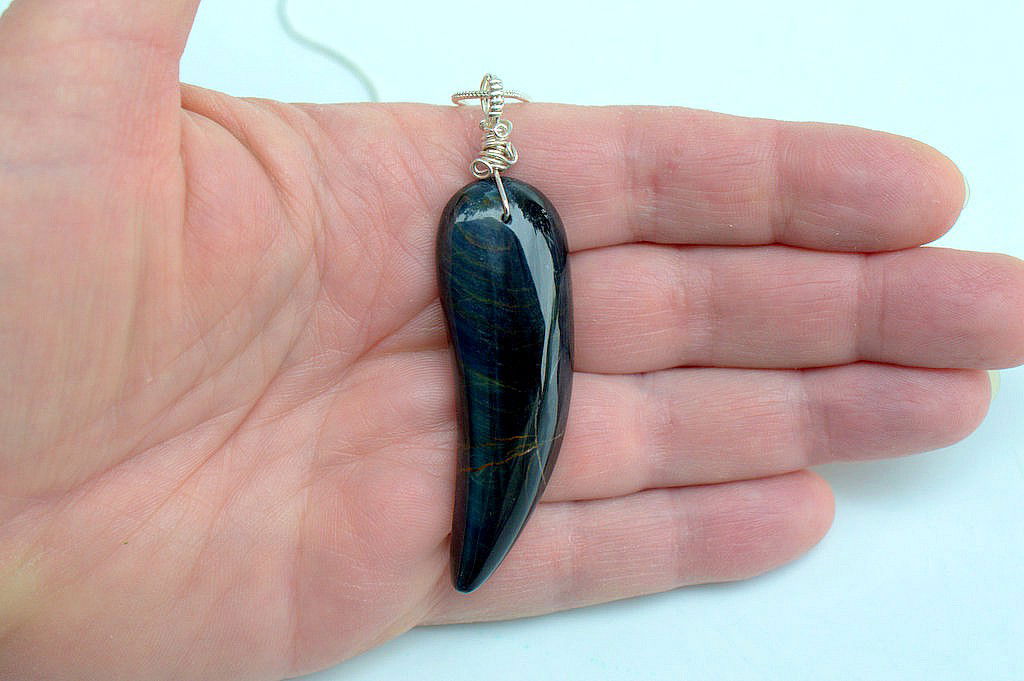 Blue Tiger eye necklace