This bright pink stone called Thulite, named after a tiny Scandinavian island where first identified as a unique specimen.It belongs to the Zoisite mineral group, with manganese molten with calcite and aluminium hydroxide components. The color can range from light pink to red, depending on the amount of the manganese in it. There are only a few locations where find, Norway, Australia, and like this one from Washington state USA just south of the Canadian border Okanogan. Also known by the name of Rozalite and pink Zoisite. Because its intense color, highly favored as a heart stone, what means anything related to love and relationships fund in the metaphysical properties of this mineral. As a healing stone, known to cure emotional wounds,neglect and sexual harassment. Thulite is also a good stone to build up low self-esteem.
The pendant cut from selected part of the raw mineral, designed to a large free form shape. Polished on diamond wheels with an eight step method, by always doubling the smoothness up to 50.000 grit. We don't treat or color our stones, it's 100% natural. The setting is a safe and modern style technique, sterling silver 21 gauge square and half round jewelry wire used for the wrapping, what focuses to show as much of the stone as possible. A silver plated 20" x 1.5 mm snake chain necklace included with the purchase of the pendant. We also carry .925 sterling silver Italian made smooth snake chain necklace in 1.05 mm thickness, and 18", 20", 24" lengths. If you wish to upgrade the jewelry, please contact us for price difference.
stone size: 41.2 x 23.8 x 7.5 mm 74.25 ct.
We have a large collection of natural mostly locally collected raw jewelry quality minerals, if you looking for something special, please drop us a line we might have your stone, what we can cut and set to your preference.
Free shipping to Canada and USA. For international order, please check rates at top right highlighted menu button.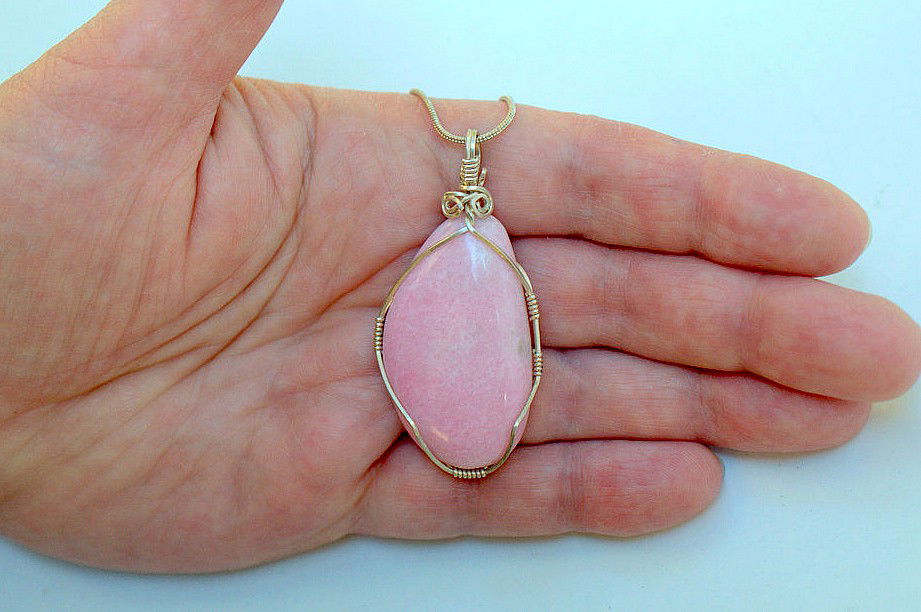 Bright pink stone Thulite silver wire wrapped pendant necklace