Our place is a paradise for natural mineral collectors and rockhounders, The abundance of jewelry quality semi-precious stones are all around us within an hour of drive. This brown Rhodonite stone's source is an hour and a half ferry ride and an hour of drive away. We collected it years ago, the test cut didn't showed the typical pink color what we were looking for. So the boulder got stashed away, till recently, when a new cut showed an awesome pattern, what is lacking or if exist cracks along the lines in the pink version. We polished one stone out, than decided to use it for jewelry.
This pendant has a very eye-catching pattern with pieces of quartz inclusion the middle. It looks like a kind of breccia stone, what means, ones it's shattered by earth movement, than bond together again. Designed to show the nicest part to free form shape. Polished on lapidary diamond wheels to brilliant shine, set with sterling silver 21 gauge square and half round wire wrapping, and with a silver plated 20" x 1.5 mm snake chain necklace.
Longer 24" or shorter 18" necklace also available, please make note at checkout for preferred length.
stone size: 40.6 x 23.5 x 10.1 mm 84.10 ct.
overall pendant size including setting: 55.6 mm
Plenty of raw brown Rhodonite on stock, custom shape and size cutting available. Each cut has different pattern.
Free shipping to Canada and USA.
US bond shipping by USPS via chit-chat express, no custom delays or tariffs involved. Fast shipping, most cases 4-5 business days to US destinations. International shipping also available with discounted USPS rates, see it here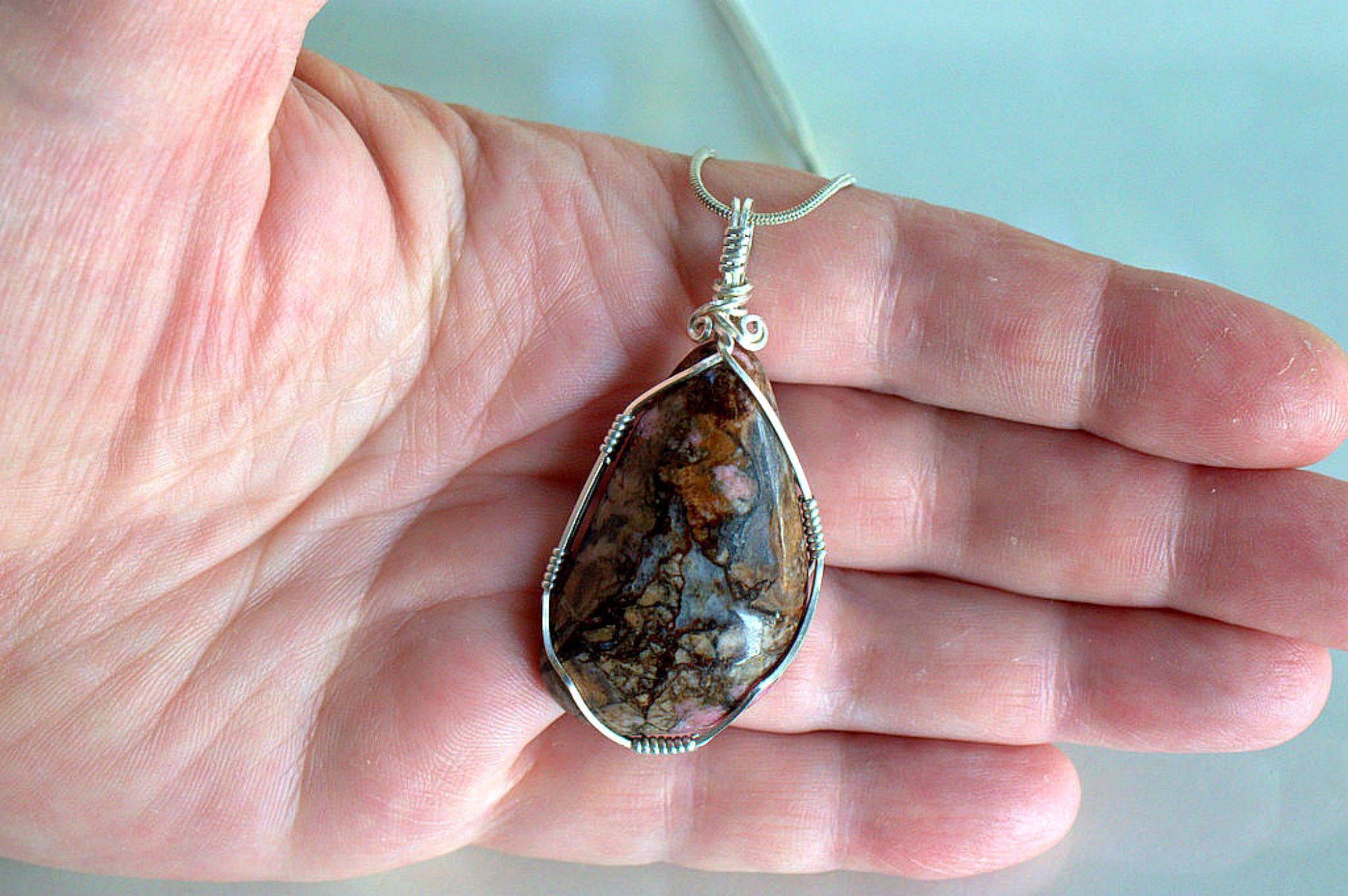 Brown Rhodonite, natural mineral silver set pendant