This cute Labradorite necklace, has everything what the specimen can offer. The combination of colors, from the bright gold, blue and shades of green, reflecting light in every direction it turned. The hue in dim light, so bright, it's like a light source itself. Natural Canadian gemstone from the east coast of the country, not treated died or altered in any ways. Set with sterling silver 21 gauge triple lined round and half round jewelry wire wrapping, and with a silver plated 20" x 1.5 mm snake chain necklace.
stone size: 30.3 x 17.5 x 7.6 mm 33.20 ct.
overall pendant height, 42.8 mm
Cutting Labradorite is require an experienced hand and eye, ones the flash shows, it's still depend on the angle. If it's cut in the wrong angle, shows the light reflection only in a certain direction. Obviously the domed face of the pendant, helps to see it in dimensions. This specific pendant, just have the perfect angle. It meant to cut a bit larger size, however during the polishing process, a small crack appeared, that made to resize it. I can offer this pendant with sterling silver Italian made 1.05 mm thickness smooth snake chain in 18", 20", 24" lengths as well, in wholesale price. Unfortunately the web host is not set up for it in the option setting to offer this, the only way I can do it, if you contact me.
A one time shipping charge added at checkout. To Canada $4.40 USA $6.25 Rest of the world $20.35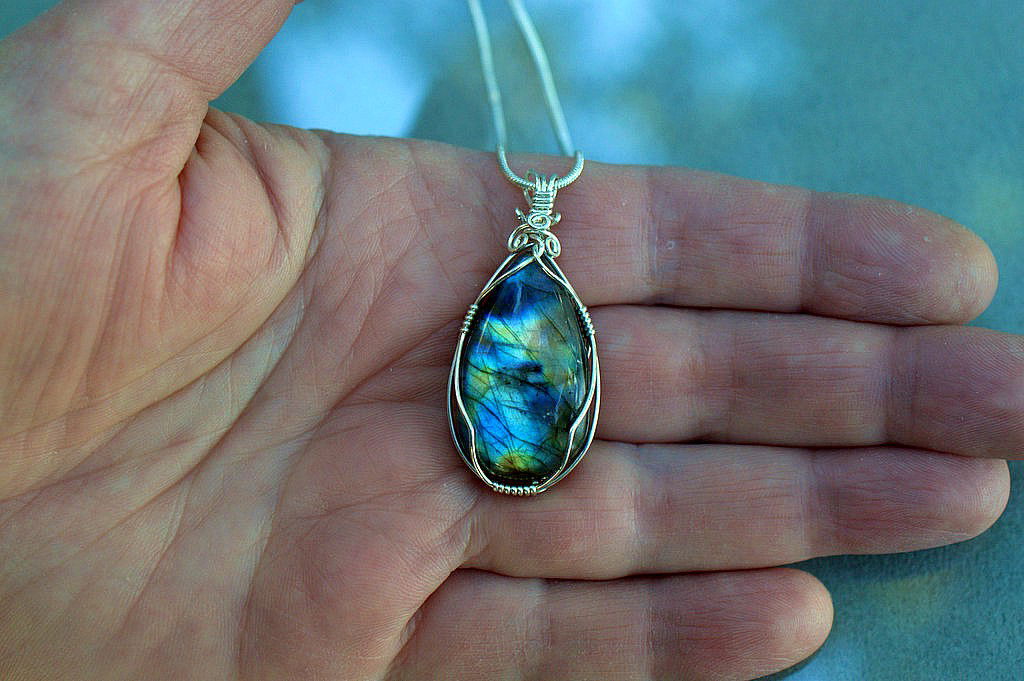 Canadian gemstone, Labradorite necklace