A nice large size locally find Canadian moss agate with living like green weed in it. The gemstone pendant designed to free form shape, with the top half transparent and bottom half with the fossilized or agatized plant. Moss agate through history, considered as one of the most powerful healing stone specially for the human organic system. Ancient warriors carried it as a talisman to make them stronger,and believed to protect from battle related injuries. Just like all agates, formed from silicon dioxide, and belongs to the Chalcedony family. A hard semi-precious mineral with the hardness of 7 on the Mohs scale,and know for its excellent work ability, takes a beautiful polish.
This specimen found in the Rocky mountains, just a short distance from Vancouver. hand polished on lapidary diamond wheels up to 50.000 grit glass like finish.
The setting is a modern style sterling silver 21 gauge square and half round wire wrapping, shows the stone's entire size, yet holds it firmly and secure
in place. It comes with a silver plated 20" x 1.5 mm snake chain necklace.
stone size: 40.6 x 23.1 x 8.6 mm 68.55 ct.
Many other moss agate raw specimen available for custom size and shape cutting. There isn't two look-alike pendant cut from moss agate.
Free shipping to Canada and USA. For international order, see estimated USPS rates here.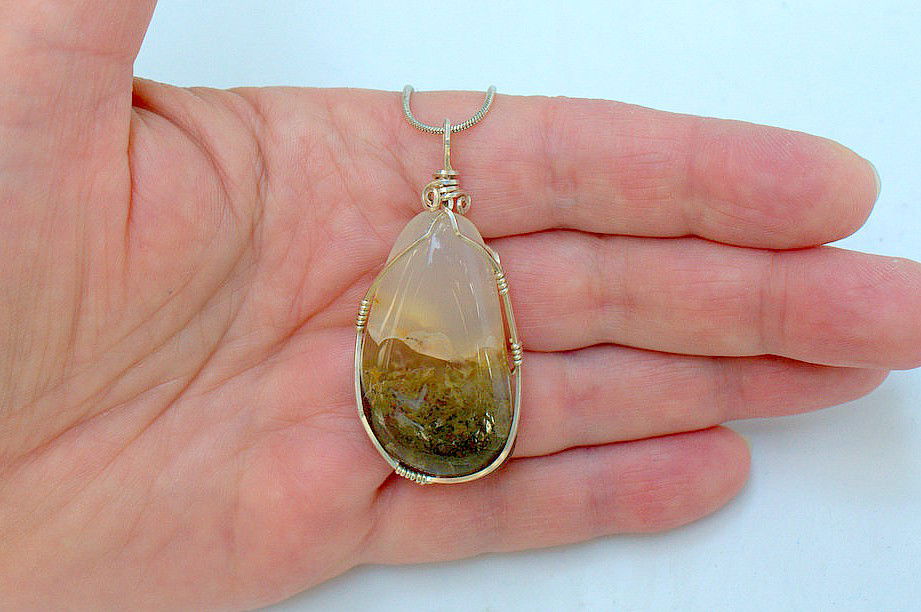 Canadian Moss agate, gemstone pendant