Looking for Canadian types of jasper? Let me introduce Dallasite as a unique specimen, exclusively find on the seashores of southern Vancouver island. It's not resolved as jasper, but it really fit to that category. The stone composed by underwater volcanic eruptions, when the lave cooled down rapidly. The components are basalt, Epidote, and quartz what makes it a hard and dense stone, with excellent finish polish ability.
Its called a breccia stone, what means flakes of the individual minerals are visibly embedded in the host rock, and melted together as one solid stone by heat and presser. By cutting the stone, obviously impossible to find two identical pattern, what makes every single pendant a unique piece. The black and white (sometimes green and yellow too) colors resembles like an abstract art painting.
The polishing process is a joy to do, the way this stone comes alive by each step is stunning. This pendant finished with 50.000 grit diamond wheel to a brilliant shine.
It's a designed shape, free form, quite a large size pendant, set with sterling silver 21 gauge round jewelry wire created hanger, what goes through a drilled 1 mm hole, a simple modern style method, what focuses to show the entire size of the stone, yet holds it safe and firm in place. It comes with a silver plated 20" x 1.5 mm snake chain necklace.
stone size: 46.9 x 16.7 x 7.8 mm 54.75 ct. The pendant's overall size including the chain ring, 56.7 mm
Type of jasper usually named by color, and/or the place it found. This specimen named by Dallas road in Victoria BC, where first identified.
We collect this specimen ourself by rowing beaches on the island, Dallasite stone is available for custom shape and size cutting.
See the Dallasite slab here, what this pendant cut from.
Free shipping to Canada and USA. International shipping is available with estimated USPS rates. Tracking code provided by email.
Read our guarantee, and return policy here.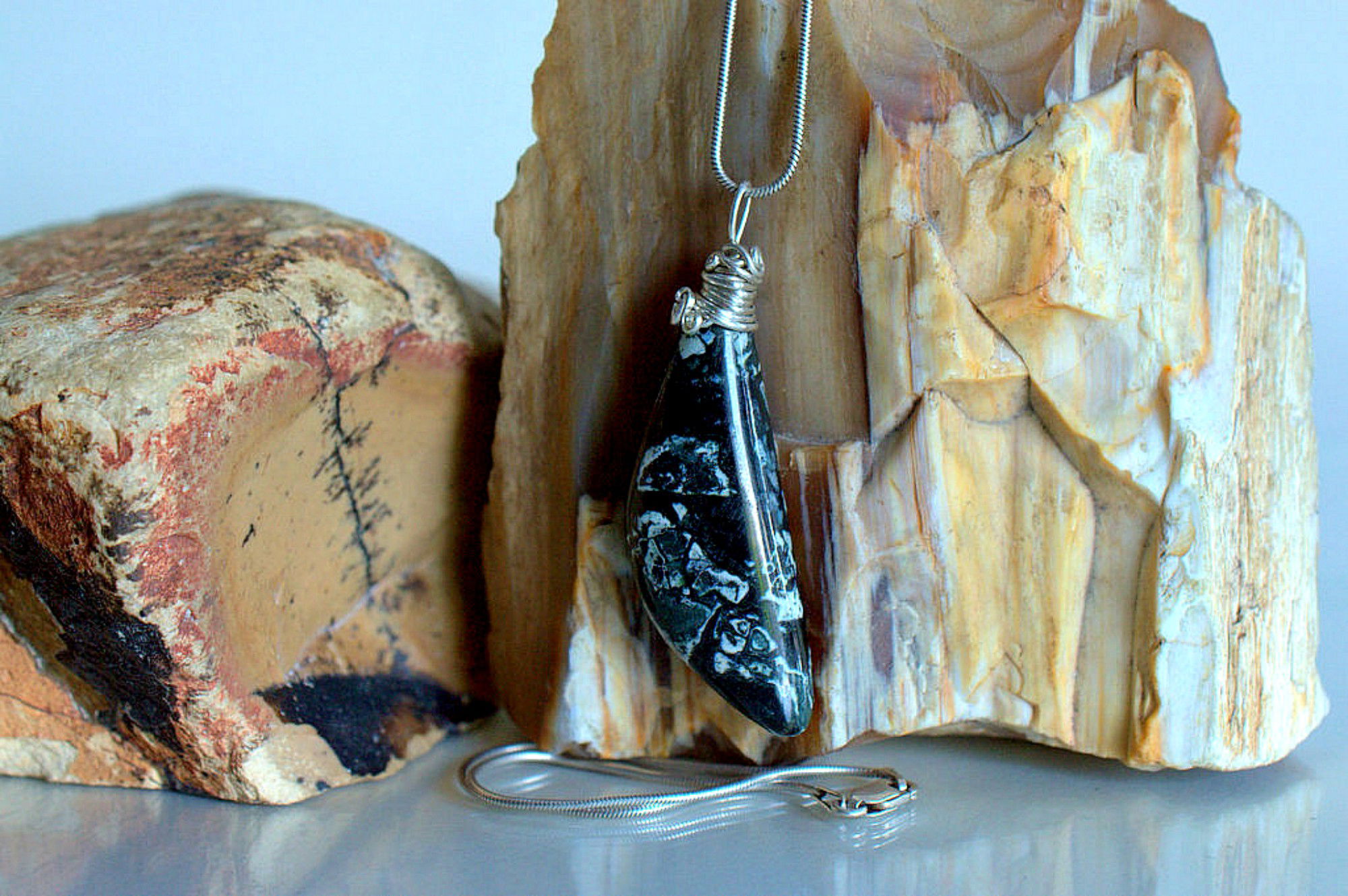 Canadian types of jasper, Dallasite necklace