A very rare Capricorn birthstone oval shape pendant. With this necklace, you'r not only getting a wonderful gemstone, it's a personalized thoughtful gift idea for the January born. Vivianite is a natural hydrated iron phosphate mineral fund in fossils shells in various size of nodes, usually colorless when brought to the surface and riches its final color by the amount of light. By knowing that fact, you have to be cautious not to expose it to direct sunlight, because it might loose its color completely. Beside this risk factor, you have just find one of the most mesmerizing gemstone. Originated from Australia, cut to a designed oval shape following the nicest pattern of the stone. Polished on diamond wheels up to 50.000 grit smoothness and bright shine. Set with sterling silver 21 gauge square and half round jewelry wire wrapping, a modern style safe and secure method to hold the stone firm in place. The pendant comes with an optional length 18", 20", 24" x 1.05 mm .925 sterling silver Italian made smooth snake chain necklace. Please make a note at checkout for the desired length.
stone size: 38.2 x 25.1 x 5.2 mm 38.80 ct.
Vivianite encourages you to be compassionate for others and for yourself. Considered as one of the best healing stone, by visualizing the path to a full recovery. Promotes positive energy and optimism even in worst situations.
We are always on the lookout for rare raw minerals, Vivianite is so rare, we had only luck to find and buy a small amount in the past five years.
Free fast shipping to Canada and USA. For international order, please see estimated rates here. A cost effective alternate shipping method might be also available with ASENDIA, please contact with destination for best rates. Not all countries supported.
We have a large collection of raw jewelry quality crystals and minerals, if you looking for any specific stone, contact us we might have it. Custom shape and size cutting with preferred setting.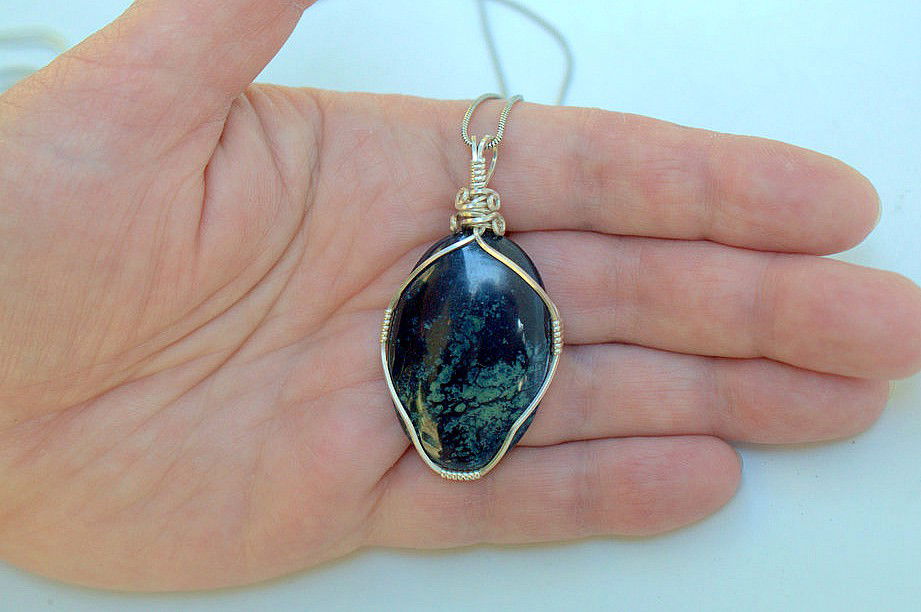 Capricorn birthstone Vivianite necklace