Called the ultimate love stone, teardrop shape charm crystal necklace, Rhodochrosite pink color gemstone pendant. This crystal is a manganese carbonate crystal, and belongs to the Calcite mineral group. Found only few places on earth, the nicest specimen, just like this one originated from Argentina. It's rare to find it in mass form, usually small pieces of raw stone available for gem cutting. The pendant designed to a long teardrop shape, polished on diamond wheels, drilled and set with silver plated ice pick bail and with an also silver plated 20" x 1.5 mm snake chain necklace.
Rhodochrosite also known by the name Inca rose. Legend says, it was discovered by the Inca empire before the 13th century, and became their own sacred stone, believed it's the solidified blood of the ancestor king or queen. Another legend claims, there's a large boulder buried in a cave deep beneath the Andes mountain as the heart of the mother earth.
stone size: 15.3 x 39.3 x 6.7 mm 42.35 ct.
Raw Rhodochrosite arriving to our shop in every few months, custom size and shape cutting available.
Free shipping to Canada and USA. International shipping by USPS, see estimated rates here.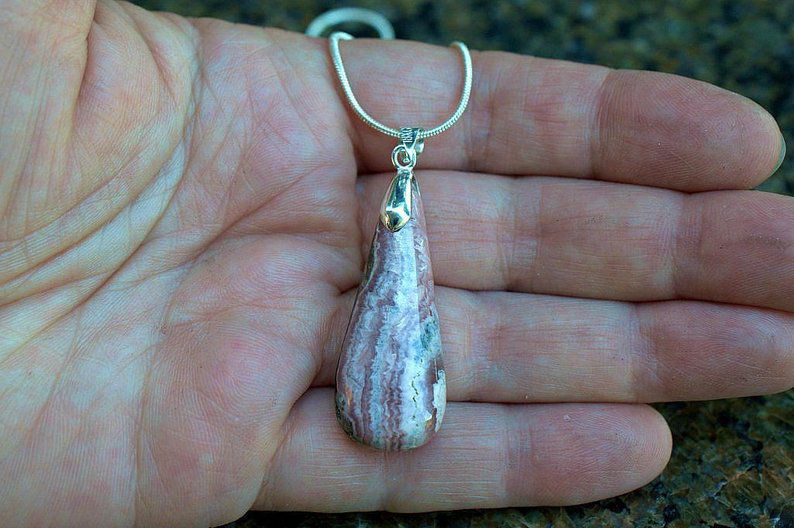 Charm crystal necklace, Rhodochrosite pendant