Chinese writhing stone also known as Chinese letter stone is a black limestone with Andalusite crystal matrix what makes a Chinese characters like pattern. The specimen's origin has nothing to do with the name what it suggest, this piece of natural mineral was find in the Fraser river in British Columbia.The pendant is a large oval shape cut hand polished on both sides, and set with sterling silver 21 gauge square and half round jewelry wire wrapping and with a silver plated 20" x 1.5 mm snake chain necklace.
We collect, cut and polish our gemstones, only the best quality stone qualifies as jewelry. We never die, color or alter our stones in any ways. All pendants 100% natural, safe to wear. We do not use chemicals or harmful materials during the process.

stone size: 39.4 x 24.6 x 6.9 mm 61.05 ct.
overall pendant height: 56.1 mm

Chinese Writing Stone is a stone of re-affirmation. It helps one to accept and adjust to change, accept responsibilities and stimulate thinking and creativity.
Free shipping to US and Canada. For International order, please contact for rates and options.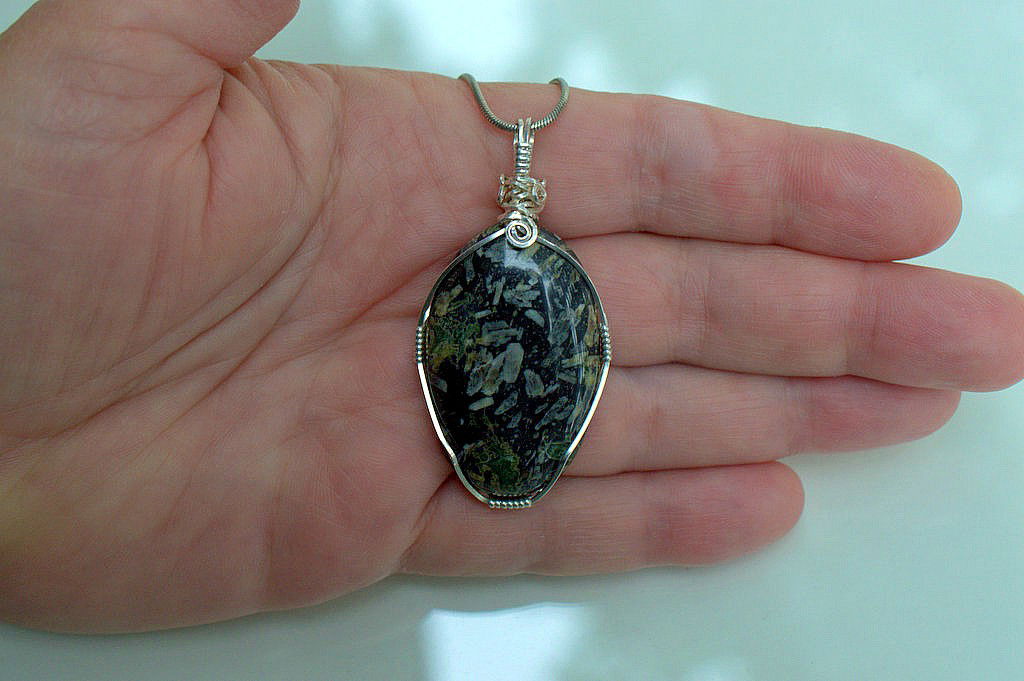 Chinese writhing stone, silver wire wrapped pendant