Eye-catching colorful stone sculpture, hand carved natural soapstone abstract. 10" tall deep green base color Brazilian origin soapstone, with various brown toned clouds like shades, what turn to almost orange and light brown. This geometrical abstract stone carving is an original artwork, with bright polishing even on the smallest details. Carved with traditional hand tools, and finished with various grits of standard water base sand papers. Sealed and buffed with non toxic bee wax. Pinned and stone epoxy glued to a dark brown rectangle shape limestone base.Signed and dated. Authentication certificate attached with the purchase of the sculpture.
The artist Gabriella, carving stones for over 35 years, soapstone and alabaster is her favorite medium. The home based studio where she works in Vancouver British Columbia offers custom carvings, and by contacting prior order, you can choose your own size and shape stone. A limited quantity of rare carving stone specimen available time to time for special works, like Anhydrite( blue stone), pink alabaster, red wonder stone... etc...
This sculpture might be personalized to your needs, by carving or engraving names, or short message to the base.
10" x 5.25" x 3"
25 x 13.5 x 7.5 cm.
2.820 kg.
Free shipping to Canada and USA. For international shipping rates, please visit shipping info here.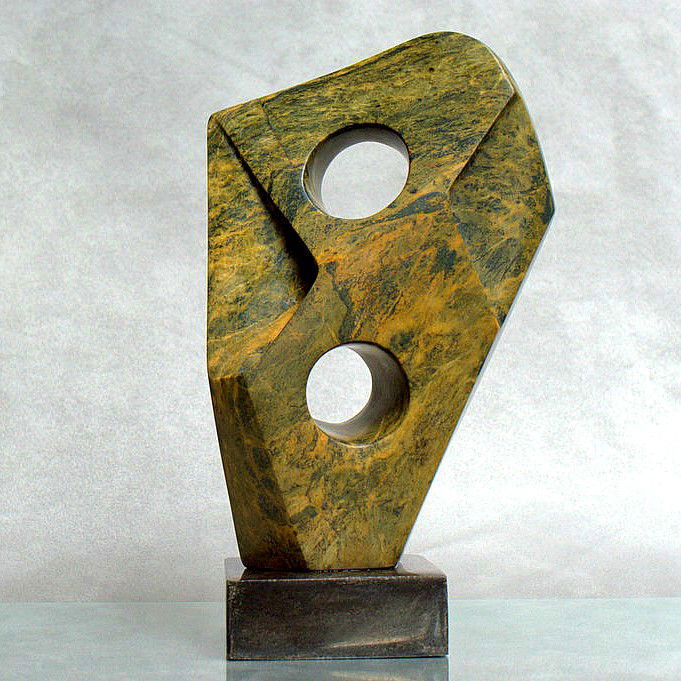 Colorful stone sculpture, abstract soapstone carving