Natural Copper mineral pendant, green and blue natural stone necklace, what contain all three gemstone mineral specimen, self collected in the Yukon territory Canada not too long ago, while conducting other business, but always time for a little rock-hounding. The main color is like Malachite the pattern like Chrysocolla with some traces of Azurite. Cut to teardrop shape and polished on diamond wheels up to 50.000 grit to a bright shiny finish. As a spiritual stone has all the three properties The stone drilled with 1 mm hole, and set with sterling silver 21 gauge round jewelry wire created hanger, comes with a 20" x 1.5 mm silver plated snake chain necklace

stone size; 35.6 x 16.8 x 11.3 mm 43.60 ct.
pendant's overall size including the chain ring 47.7 mm

Metaphysically, the combination of Azurite/Malachite/Chrysocolla is a transformational and regenerative stone, helping the user to balance one's emotions and to feel more comfortable with all aspects of the self during times of great change. It enhances a person's feelings of brotherhood and love, helping one to demonstrate compassion and right-mindedness.
Free shipping to US and Canada. For International order, please contact for rates and options.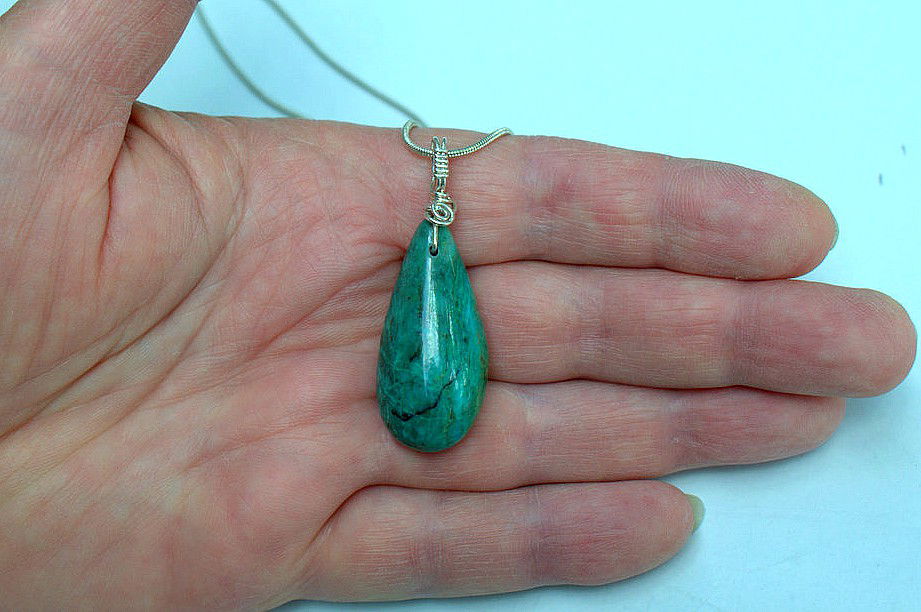 Copper mineral pendant natural stone necklace