Yellow base color copper wire wrapped gemstone pendant with black and brownish pattern. Designed free form shape Leopardskin Jasper medium size natural mineral, with trendy style setting. All jasper known as a grounding and protection stone, this necklace in addition is a good stone for business ventures, it supposed to bring success by visualizing the next step ahead. The size of the stone makes it an eye-catching piece of jewelry. The type setting allows to wear it for men and women equally.
It's a natural untreated high-grade mineral, hand cut and hand polished, no dying, coloring or any chemical treatment used to create it. Polished on lapidary diamond wheels to a bright glass like finish. An 18" x 2 mm black leather necklace included.
stone size: 38.1 x 21.5 x 5.9 mm 33.05 ct.
Free shipping to Canada and USA,
For international shipping, see estimated USPS rates here.
A large collection of jewelry quality crystals and minerals, ready to cut for pendants, available for custom shape and size request. If you look for a specific gemstone, contact us, we might have your stone.
We never treat or gemstone pendants, all 100% natural. We make the best effort to present the life-like image of our product, however the resolution of the monitor might slit show different colors.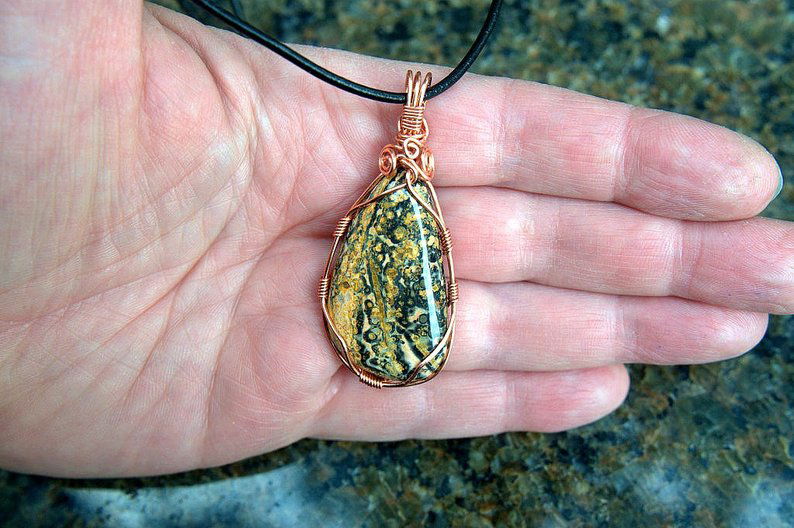 Copper wire wrapped gemstone pendant, Leopardskin jasper