The new generation seems to be more attracted to copper wire wrapped jewelry, than the traditional gold or silver setting. This Mahogany Obsidian pendant made for the today's trend. Obsidian often called as volcanic glass, the reason is obvious, because when held against light, its translucent and very much looks like a smoked glass.This is the first stone, what our earth produces when renewing its surface. Created by the rapidly cooling lava, don't even have enough time to form crystalline structure. The molted minerals sometimes mixing with the lava flow and can create a wonderful pattern. The red-brown color inclusion in Mahogany obsidian is iron.
Just like any other rocks, obsidian in human history used for many purposes, and of course earned reputation as metaphysical and spiritual stone too.Mahogany Obsidian known as a kind of forgiveness or awakening stone, it said reveals memories of humiliation, insults, and abuses, and turn them into a positive life experience learning energy. It's a stone of a let it go, and move on. The best emotional cure, after divorce, and broken heart relationship.
Obsidian relatively easy to collect, just a little research of local volcanic activities, shows where to find it.
This pendant cut from a local west coast mountain range find, in British Columbia. Designed to a free form shape by after the pattern. Polished on lapidary diamond wheels, and set with pure copper 20 and 24 gauge craft wire, and with a black leather 18" x 2 mm necklace.
stone size: 39.8 x 18.1 x 8.4 mm 36.25 ct.
Free shipping to Canada and USA. International USPS rates here
Raw obsidian is always on stock, custom shape and size cutting available.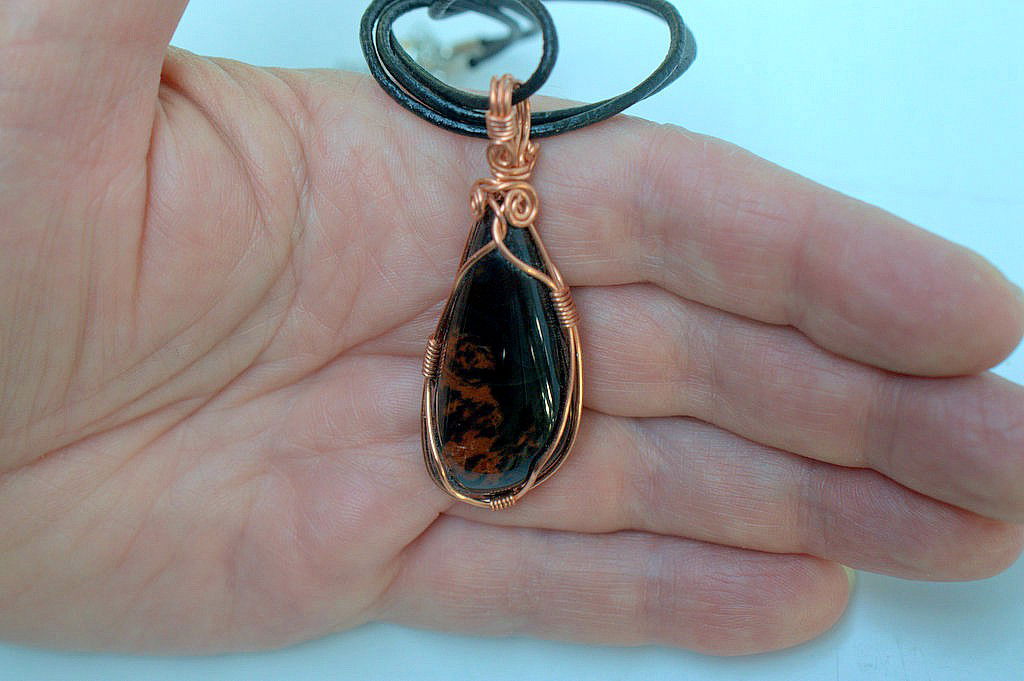 Copper wire wrappwed, Mahogany Obsidian pendant