Actually, crocodile green color listed in dictionaries, so no need to exaggerate to find the closest shade to this natural mineral. Crocodile Jasper is a Madagascar origin semi-precious stone, also known as Kambaba Jasper, and green Stromatolite. One of the oldest sedimentary rock, microcrystalline quartz fossil, what comprised by ancient microorganisms and blue-green algae. An extremely hard and dense stone, what takes an excellent polish.
This pendant designed after the black circles pattern, hand polished on lapidary diamond wheels to 50.000 grit smoothness and shine. Drilled with 1 mm hole, and set with sterling silver 21 gauge round and half round jewelry wire created hanger, and with a 20" x 1.5 mm silver plated snake chain necklace.
stone size: 36.7 x 20.6 x 8.5 mm 45.80 ct.
overall pendant height: 48.5 mm
Limited quantity of raw Crocodile Jasper still on stock, custom shape and size cutting available.
Free shipping to Canada and USA.
Fast US bond shipping by USPS via chit-chat express, daily. No custom delays or tariffs involved, most cases 4-5 business days delivery time. Tracking provided by email within 24 hours of confirmed payment.
International shipping also by USPS, or by ASENDIA if destination available, a one time charge of $9.25 (CAD) added at checkout.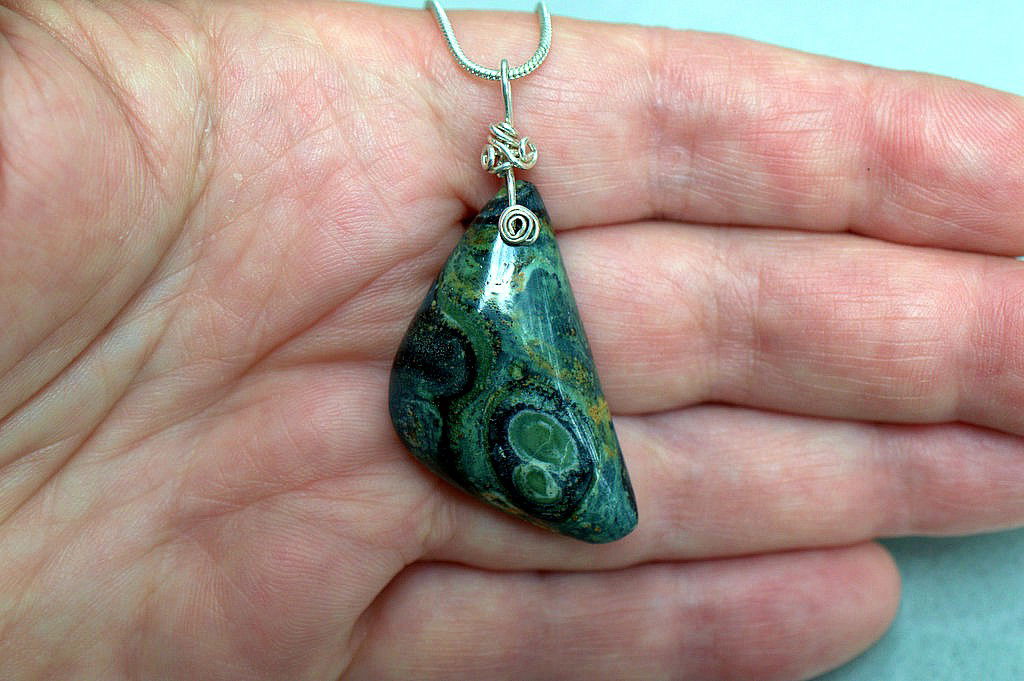 Crocodile Jasper, natural mineral, silver wire set pendant necklace