Fantasy designed shape natural crocodile jasper necklace, decent size olive green stone jewelry. This gemstone actually called Kambaba jasper, my apologies for those who's familiar with the name, but according to search engine, not many people would look for that term. This wonderful jasper specimen arrived to our shop from the oldest and probably the most intriguing island on the world Madagascar. The soft green color radiates the age of our planet, like nature missed a few springs renewals, but still alive. The swirly black pattern shows like ancient mystic circles, you could almost read history in it.
The pendant is hand cut, designed to show the nicest pattern what represent this mineral, polished on diamond wheels up to 50.000 grit smoothness and glassy shine. It's a very hard and dense stone specimen, never need to afraid it'll scratches. It's a joy to work with it, the way the green comes alive with the smoother and smoother wheels. The setting is a modern style, simple method, what focuses to show more of the stone than the setting, yet holds it firmly in place. We used sterling silver 21 gauge square and half round non tarnish jewelry wire for the wrapping. The pendant comes with a silver plated 20" x 1.5 mm snake chain necklace.
stone size: 41.9 x 24.1 x 6.9 mm 51.05 ct.
We usually have raw Kambaba jasper stone on stock, if you prefer a custom size or shape pendant, we'll be happy to cut it for you, however please keep in mind that no two stone look alike, the pattern is always differs, sometimes the green is not this bright either.
A large collection of jewelry quality crystals and minerals are ready to cut to pendants, if you looking for a specific gemstone, don't hesitate to contact us, we might have your stone.
Free shipping to Canada and USA. International shipping available, please see estimated USPS rates here.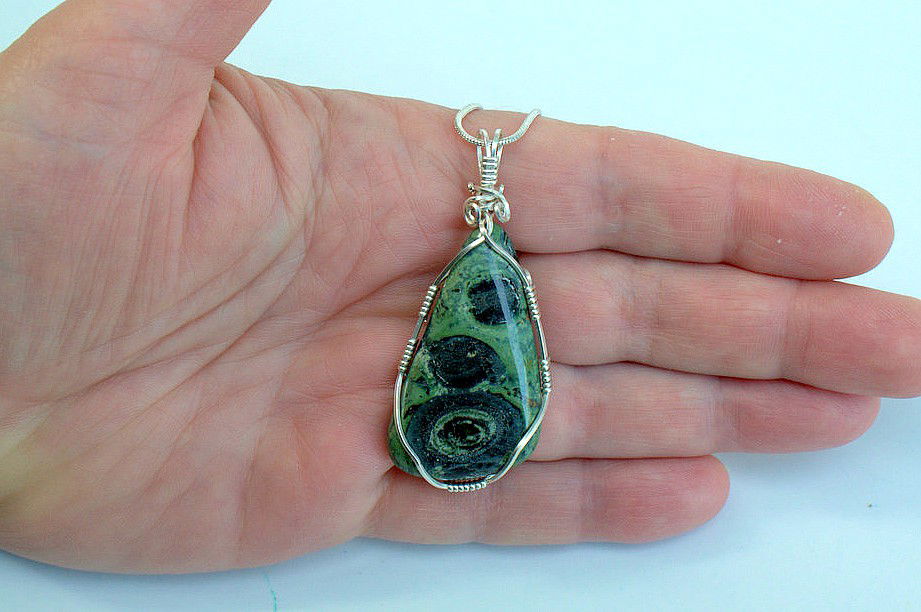 Crocodile jasper necklace, green stone jewelry