When you buy a Dallasite gemstone pendant from our shop, you're not getting a mass-produced casual jewelry. All of our pieces self collected natural Vancouver island origin minerals. We invest a great deal of time and money three four times a year, to take the ferry ride and walk the seashores to find the nicest specimen. We test cut and select each pieces of stone what find, for consistency and quality, only the best qualifies as jewelry.
Dallasite is belong to the Jasper type semi-precious stones, The fragments what makes the stunning pattern is often quartz, but other carbonates can give various shades of color too. When slices cut of the rock, it reveals the inside, designing the shape, usually determined by after the most impressive pattern. The polishing is an eight step method on lapidary diamond wheels, begin with a coarse 60 grit, and by doubling the smoothness to the last 50.000 glass like bright and shiny finish. The setting is a simple looking sterling silver 21 gauge jewelry wire wrapping, what focuses to show the entire size of the stone, while holding it firm and secure in place.
stone size:41.1 x 24.7 x 9.6 mm 79.70 ct.
overall pendant height: 52.9 mm
The pendant hangs on an Italian made sterling silver 1.05 mm thick, smooth snake chain necklace, 18", 20", 24" length to choose from.
Self collected raw Dallasite usually on stock, or will be soon, custom shape and size cutting available.
A one time shipping charge added at checkout. To Canada $4.40 USA $6.25 Rest of the world $20.35
Fast US bond shipping by USPS via chit-chat express, daily. No custom delays or tariffs involved, most cases 4-5 business days delivery time. Tracking provided by email within 24 hours of confirmed payment.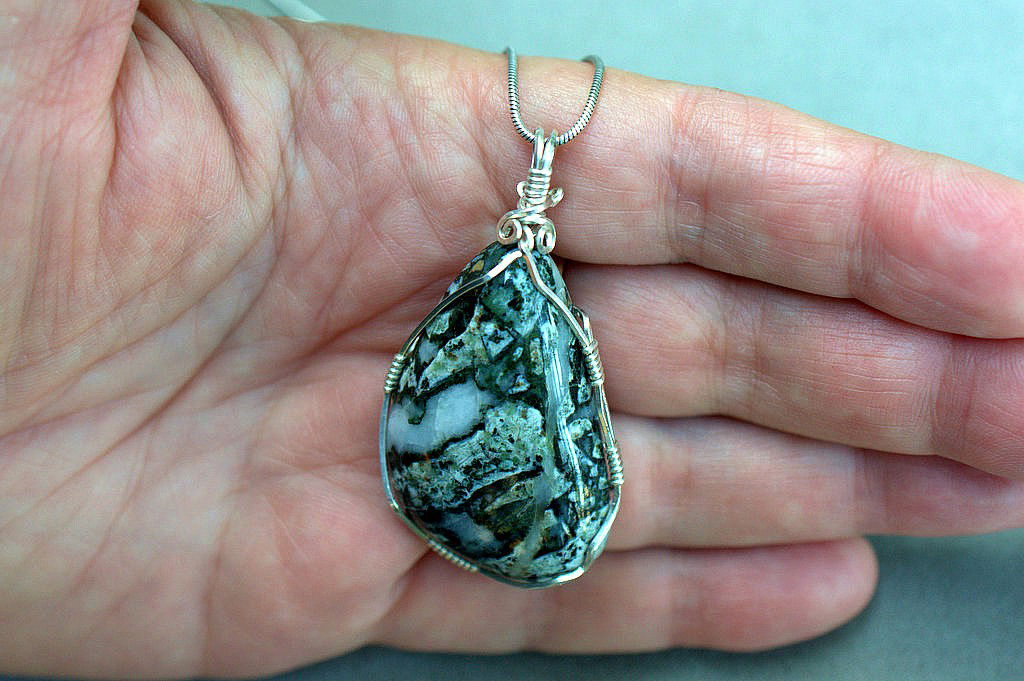 Dallasite gemstone pendant,Vancouver island mineral