Natural black and white pattern mineral, Vancouver island origin Dallasite necklace. The name of this abstract like stone,refers to the place, where discovered at Dallas road Victoria, British Columbia, not long ago, classified as a type of Jasper. As a stone cutter, I just can say, how joy is to work with this gemstone. Every step at the polishing process feel like the stone demands what to do next. The last result with 50.000 grit diamond wheel, shows a stunning brightness, and the pattern seems to jump out of the stone.
We collect our raw stones, by walking the island beaches, test cut it, back in our shop, select it for quality and only the nicest ones makes it to jewelry.
This large oval shape pendant presents what this stone is about, the fragmented pieces in it, called breccia and the black base color shows how unique is this specimen. Set with sterling silver 21 gauge square and half round wire wrapping, a safe and modern style method, what focuses to show the entire size of the stone, yet holds it firm in place. Hangs on a silver plated 20" x 1.5 mm snake chain necklace. If you have allergies to base metal, a 2 mm thick black leather necklace supplied listed of the silver plated.
Dallasite is our pride and joy, we collect this stone two three times a year, so we always have backup for custom size and shape cutting.
stone size: 40.7 x 25.1 x 7.2 mm 69.40 ct.
overall pendant height: 57.7 mm
Free shipping to Canada and USA.
Fast US bond shipping by USPS via chit-chat express, daily. No custom delays or tariffs involved, most cases 4-5 business days delivery time. Tracking provided by email within 24 hours of confirmed payment.
International shipping also by USPS, or by ASENDIA if destination available, a one time charge of $9.25 (CAD) added at checkout.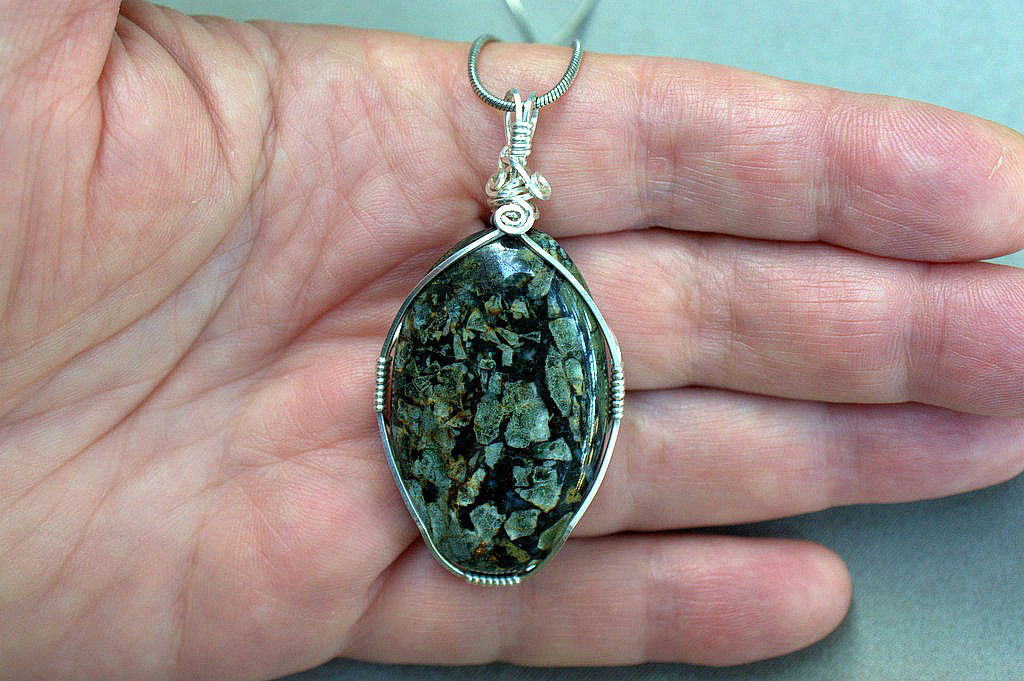 Dallasite necklace, Vancouver island's gemstone