An interesting variety of quartz deep purple crystal necklace, V shape banded chevron Amethyst oval shape gemstone pendant. Quartz is one of the most abundant crystal, found all over the world, specially where volcanic activities recorded. This clear gemstone sometimes mixing with other mineral inclusions, and and the coloring by it. The yellow variety is the Citrine, and probably the best know the purple Amethyst. This specific crystal is a Moroccan origin stone, and it fond in a layering formation with white or milky quartz. The chevron or V shape sometimes irregular, and in a pendant, depend on the design of the cutting.
It's a medium size oval shape pendant, with the parallel lined pattern designed almost in the center. Hand cut and hand polished on lapidary diamond wheels up to 50.000 grit smoothness and bright shine. Set with sterling silver, modern and trendy 21 gauge square and half round jewelry wire wrapping, what focuses to show the entire size of the stone, yet holds it firmly and secure in place. A 20" x 1.5 mm silver plated snake chain necklace included with the pendant.
stone size: 39.8 x 22.1 x 6.9 mm 52.10 ct.
A one time shipping charge added at checkout. To Canada $4.40 USA $6.25 Rest of the world $20.35
We have a large, mostly self-collected jewelry quality crystals and minerals, ready to lapidary works. If you looking for a specific gemstone, don't hesitate to contact us, we might have your stone, what we can cut and polish to preferred size and shape with various setting options.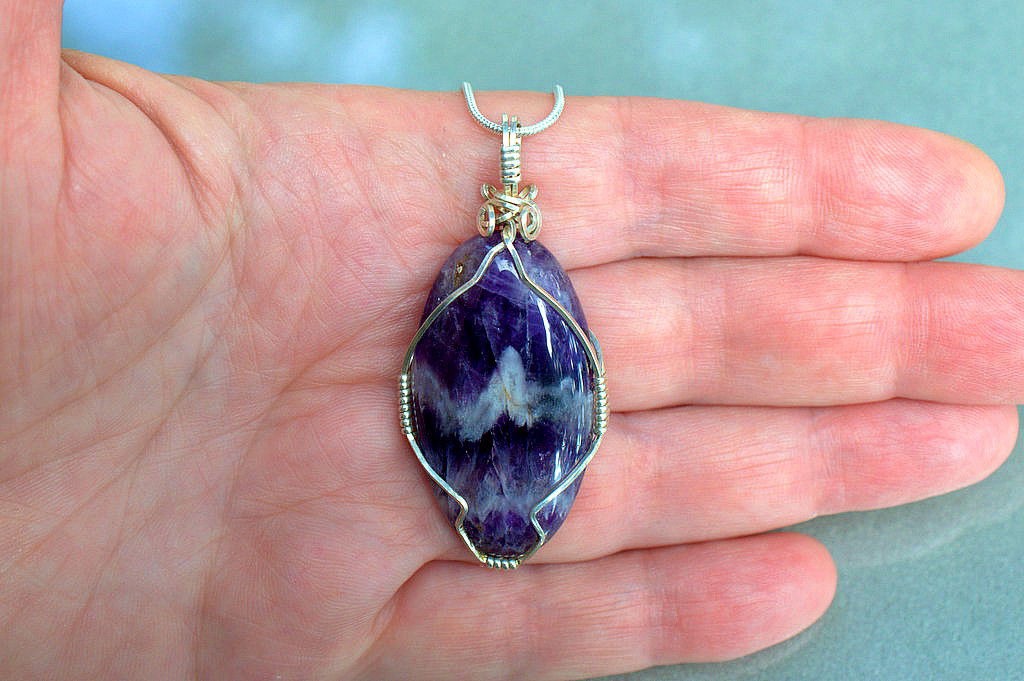 Deep purple crystal necklace, Chevron Amethyst