This rare deep red crystal pendant is a cut from a complex mineral composition. Contains at least eight different minerals, what pressed and melted together over millions of years. The black host rock and the red or burgundy matrix makes this stone a very desirable jewelry material. Eudialyte discovered in Greeland and Russia, not too long ago Canadian finds were reported as well. This gemstones arrived to our shop from Russia. After slabbing and selecting for quality and for the nicest pattern, designed to oval shape, than polished on diamond wheels to a bright finish.
Eudialyte considered a powerful stone in the metaphysical world, it said banishes depression and boredom, teach one for self-love and increases vitality,The stone set with sterling silver 21 gauge square and half round jewelry wire wrapping, a modern style setting method what focuses to show the stone as much as possible, yet holds it firm in place. The necklace is also sterling silver Italian made smooth snake chain 20" x 1.05 mm 4.54 gr.
stone size: 35.5 x 22.8 x 6.7 mm 45.55 ct.
This is an untreated natural mineral, we never die, color, or alter or stones in any ways. All pendants cut polished and set by us in our shop.We also have a large collection of crystals and minerals from all over the world, jewelry quality stones available for custom size and shape cutting,if you looking for a specific gemstone, don't hesitate to contact us, we might have your stone.
Free shipping to Canada and USA. For the rest of the world shipping please check estimated rates here.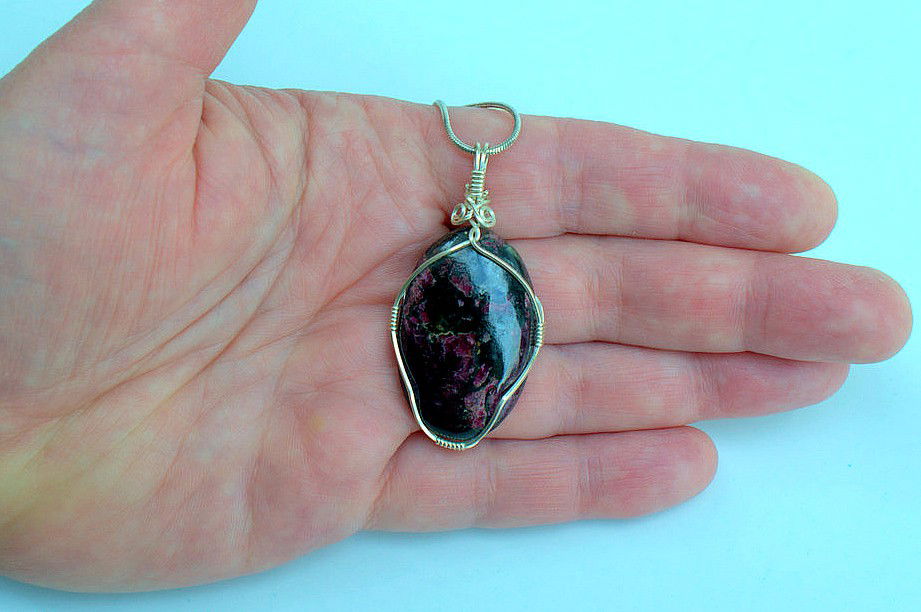 Deep red crystal pendant,Eudialyte necklace