Long rounded edges triangle shape Dinosaur bone pendant hand cut and hand polished red stone necklace. Also called as gem bone, a popular and trendy jewelry with metaphysical properties. Dinosaur Bones is known to strengthen the spirit in the stormy times; it removes and changes the bad and negative thoughts along with the negative powers by the shining power of positive.
The raw stone from a fellow collector. Designed to shape, cut and polished on lapidary diamond wheels to a smooth and shiny surface finish, up to 50.000 grit glass like brightness. Drilled with a 1.5 mm hole and set with sterling silver 21 gauge jewelry wire created twist cap hanger, hands on a 20" x 1.5 mm silver plated snake chain necklace. I can personalize the pendant by carving or engraving initials, names, or a very shot message to the backside for free of charge. Sterling silver Italian made smooth snake chain necklace also available on wholesale price in three length 18", 20", 24" x 1.05 mm. Please contact for prices and to upgrade.
stone size: 43.3 x 13.9 x 5.3 mm 23.25 ct.
Free shipping to Canada and USA. International shipping available with estimated USPS rates, see it here.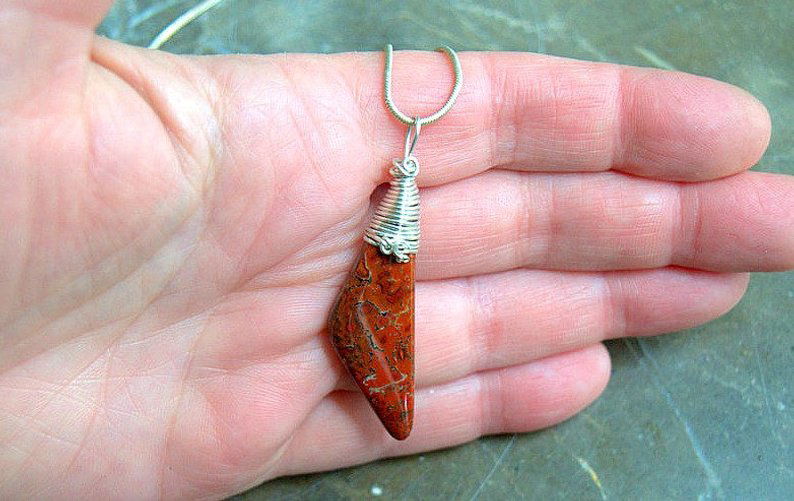 Dinosaur bone pendant, red stone necklace