Teardrop shape dinosaur bone stone pendant, natural red or rather burgundy color fossil, with sterling silver 21 gauge square and half round wire wrap setting, and with a silver plated 20" x 1.5 mm snake chain necklace.
stone size: 37.7 x 25.6 x 6.1 mm 47.30 ct.
overall pendant height: 53.6 mm
Dinosaur bone or often called gem bone, is a materialized gemstone, that every individual cells over millions of years replaced, fossilized by precious minerals. Found manly in the USA, Colorado, Arizona, and New Mexico. Lately it became a very popular jewelry, and as an emotional, spiritual, and physical healer.Properties known for its detoxicating energies, soul cleaning, and emotional strength giving.
The raw stone, from a fellow gem collector, cut to shape, polished on lapidary diamond wheels in our shop. The setting is a modern style design, focuses to show the entire size of the stone, yet holds it firm and safe in place.
A few more pendants, different shape and size coming soon to the gemstone pendants section. Sign up to our news letter, to receive notification, when became available.
Free shipping to Canada and USA. International shipping by USPS, a $9.25 CDN charge added at checkout.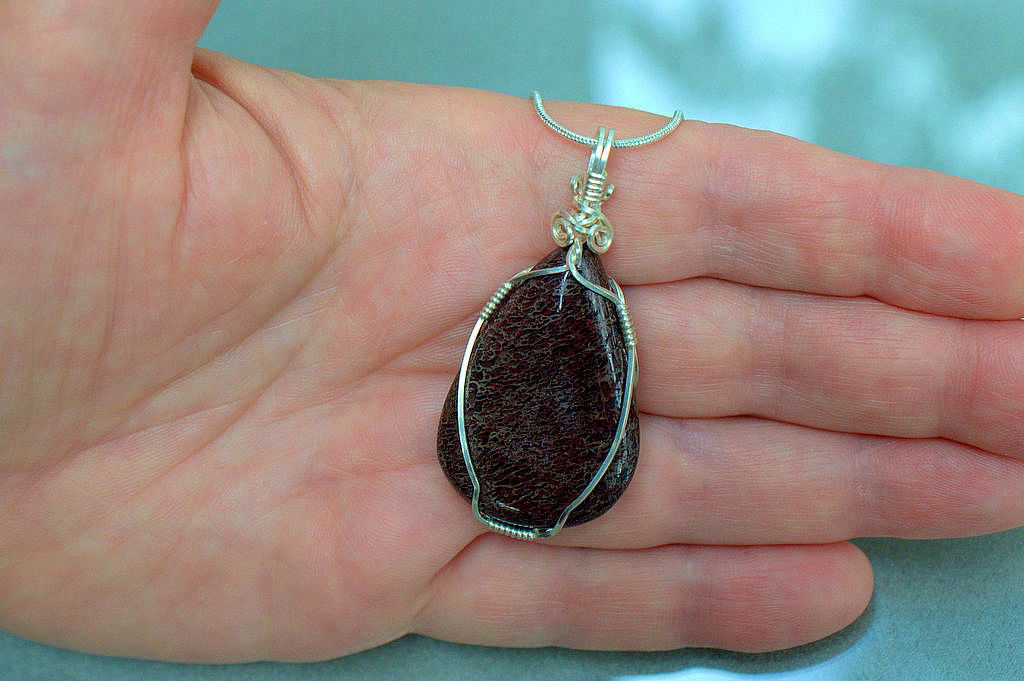 Dinosaur bone stone pendant, deep red fossil necklace.