The soft pink color in this dragonfly stone carving in not unusual, ones you got to know the Spanish alabaster. It considered as one of the finest carving material, the crystals compared to other alabaster are much finer, and takes a beautiful polish. However it's rare when pure white, always have a little other shade in it. This fantasy designed new nature inspirational sculpture, is a realistic style dragonfly, landing on an abstract style leaf. Traditionally carved, using only hand tools for shaping, such as files, and rasps, standard water base sand papers for the polishing, up to 2000 grit smoothness and bright shine. Sealed and buffed with natural non toxic bee wax. Stands on round shape high polished 3.75" -9.5 cm diameter white marble base.The sculpture is pinned and stone epoxy glued to the base.
It's an original, new, never been displayed sculpture by Gabriella, (owner of sagastone), signed and dated on base stone. Authentication certificate is attached.
13.5" x 10.5" x 3.75"
32 x 26 x 9.5 cm
4.301 kg.
Soapstone and alabaster raw carving stone always on stock, custom carving always welcome.
See other alabaster carving here, fro the same stone.
Free shipping to Canada and USA. International shipping available with USPS estimated rates. Weight and size determined shipping quote approximates available in top right highlighted menu button.
A cost effective, alternate shipping method might also available with ASENDIA. Please contact prior ordering with destination, not all countries supported.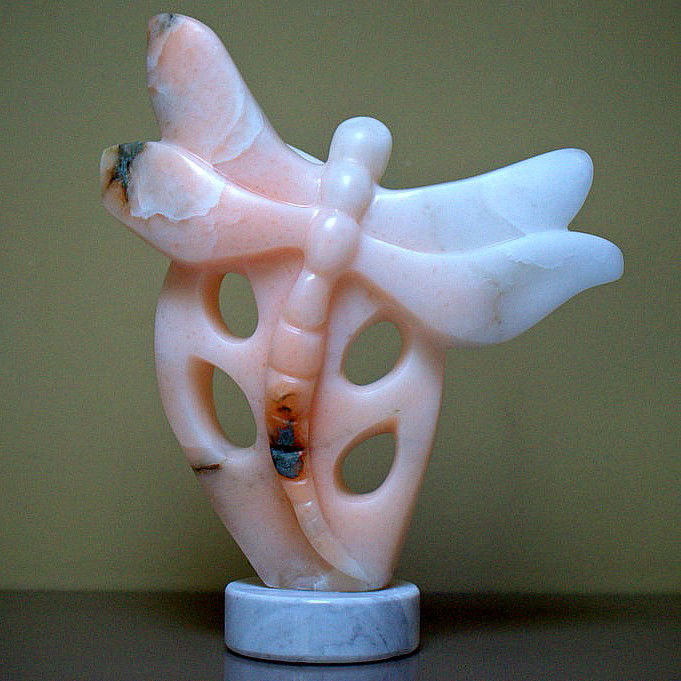 Dragonfly stone carving, alabaster sculpture