If you ever wonder what is a dream stone pendant, than just take a look at this beauty's pattern. Twisting turning, layering, swirly crystal with the Royal purple color. It's a genuine Charoite gemstone from the only place on earth where found, Siberia Russia. Charoite discovered as a unique mineral back in 1940, but wasn't introduced to the world till 1978, than it became one of the most sought after jewelry material. Named after the river Charo, where this gem prospected. Unfortunately the late news says, the supply is depleting, not much left to mine.
It's a very complex mineral, takes a long list to say all what's composing it. A relatively soft stone, and not easy to work with, but the result worth the effort.
The raw stone from a supplier by the pound. The various pieces of chunks, selected for quality, than cut and designed to pendants. Polished on diamond lapidary wheels up to 50.000 grit smoothness and shine. It's a real joy to see how the color and pattern comes alive with each step of the polishing method. This pendant cut from one of the highest grade raw. Set with sterling silver 21 gauge square and half round jewelry wire wrapping, what is a modern style method, allows to show the entire stone, yet holds it firmly and secure in place. A sterling silver Italian made very smooth snake chin necklace included with the purchase of the pendant. Tree lengths available, 18" 4.09 gr, 20" 4.54 gr, 24" 5.45 gr, and the thickness is 1.05 mm. Please make a note at checkout for the preferred length of necklace.
stone size: 35.4 x 24.1 x 6.2 mm 47.85 ct.
A very limited quantity of raw Charoite still available for custom shape and size cutting, however as mentioned above they're pieces so the color and pattern can't be guaranteed be the same as this pendant.
Free Shipping to Canada and USA. For International order, please see estimated USPS rates here. Sent in jewelry box, with wish card if required.
Looking for a specific gemstone? We have a large collection of jewelry grade crystals and minerals, ready for lapidary. Chances are that we have your stone. Contact us with your need.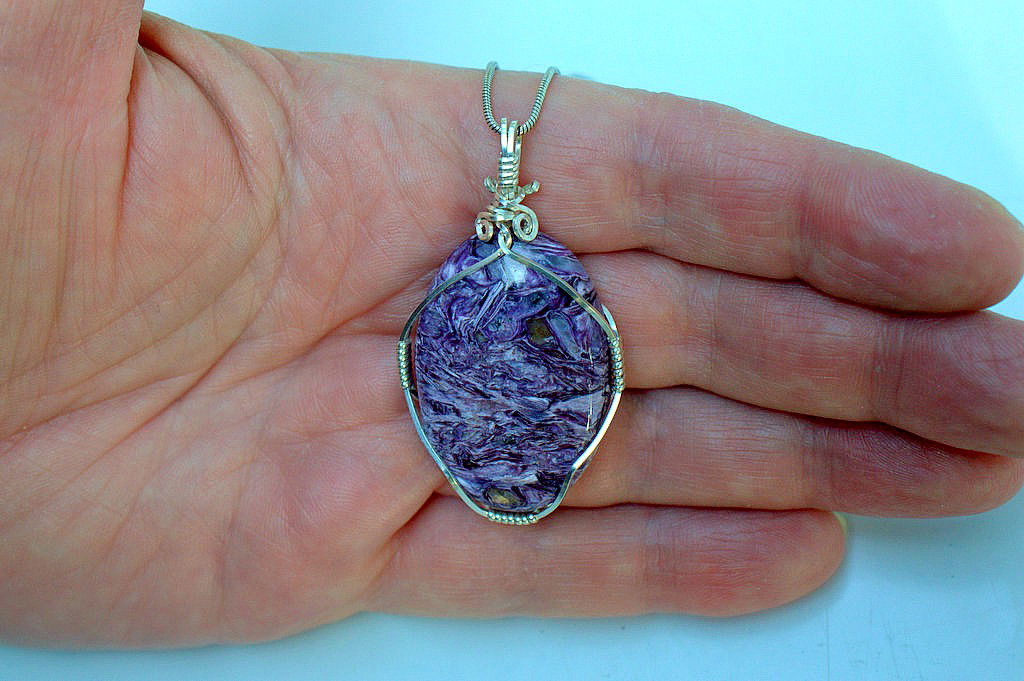 Dream stone pendant, Charoite necklace jewelry