Healers gold, or Apache gold is a natural iron oxide mineral, consist Pyrite and Magnetite mixture. It is striking in appearance, with its delightful blend of black and gold happening in sensational examples. Pyrite is viewed as a stone of assurance and insight. It accepted to upgrade rationale, examination, mental security, insight, imagination, mystic improvement and memory. Magnetite is known to dispel anger, release fear and confusion. Just imagine what you can accept from these properties all together in one stone.
The pendant designed to teardrop shape, hand polished to glittering gold on lapidary diamond wheels. Set with sterling silver 21 gauge square and half round jewelry wire wrapping, and with a silver plated 20" x 1.5 mm snake chain necklace. Black 2 mm thick leather necklace also available instead of the silver plated.
stone size: 37.8 x 24.1 x 7.9 mm 86.15 ct.
overall pendant height: 52.8 mm
Free shipping to Canada and USA.
Fast US bond shipping by USPS via chit-chat express, daily. No custom delays or tariffs involved, most cases 4-5 business days delivery time. Tracking provided by email within 24 hours of confirmed payment.
International shipping also by USPS, or by ASENDIA if destination available, a one time charge of $9.25 (CAD) added at checkout.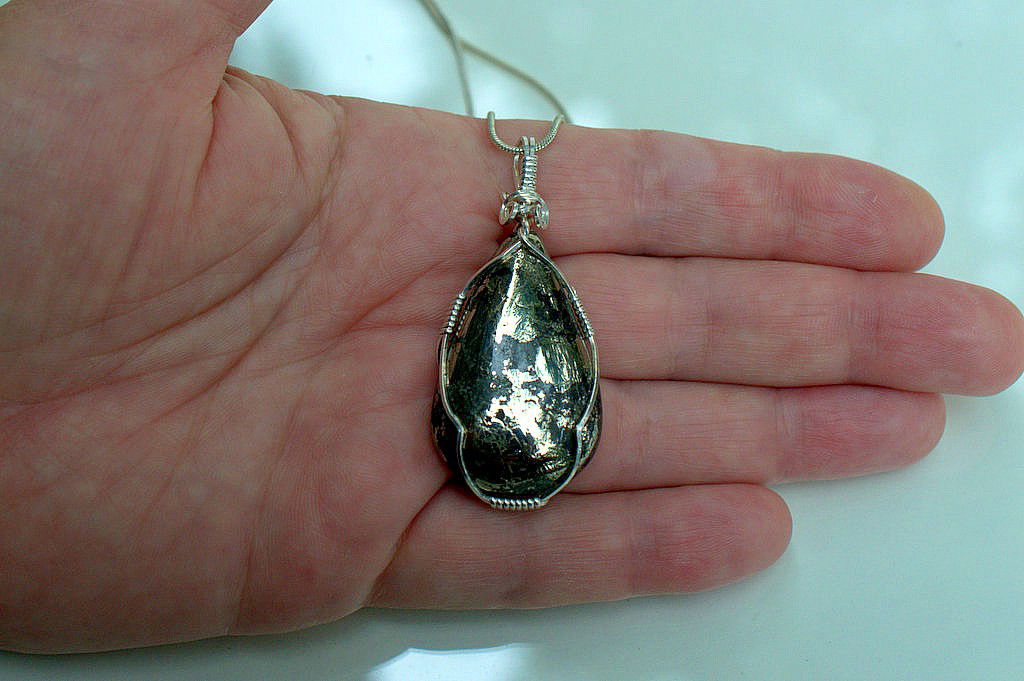 Excellent healing stone, Apache gold teardrop shape pendant