By the first look, this fool's gold necklace really could be mistaken for real gold. Just as bright and just about the same color. I don't think the name needs much explanation, nor the story behind it, how the old timer gold diggers paid the high price to learn a precious lesson. The stone is a combination of black Steatite and golden Pyrite, known also by the name as healers gold or Apache gold.
It's a locally prospected specimen from the Canadian rocky mountains, cut and designed to oval shape in our shop. The setting is a modern style pure copper 20 and 24 gauge craft wire, with natural color, what close to much the stone's gold reflection. It comes with an 18" x 2 mm natural black leather lace necklace. the stone polished on diamond wheels up to 50.000 grit smoothness.
Apache gold pendant is known to turn negative energies into positive ones. Also known as a stone to connect us to the earth's magnetic field, and makes us feel more comfortable with our confidence, helps to act on impulses.
stone size: 38.6 x 24.1 x 7.4 mm 90.95 ct.
Pyrite is a common stone to find in our area, if you'd like to have a custom size and shape pendant made for you, we'll glad to cut it for you.
We also have a large collection, mostly locally prospected jewelry quality crystals and minerals ready to cut to pendants. If you're looking for a specific stone, please don't hesitate to contact us, we might have your stone.
A one time shipping charge added at checkout. To Canada $4.40 USA $6.25 Rest of the world $20.35. A cost-effective alternate shipping method might be also available with ASENDIA, please contact with destination info, not all countries supported.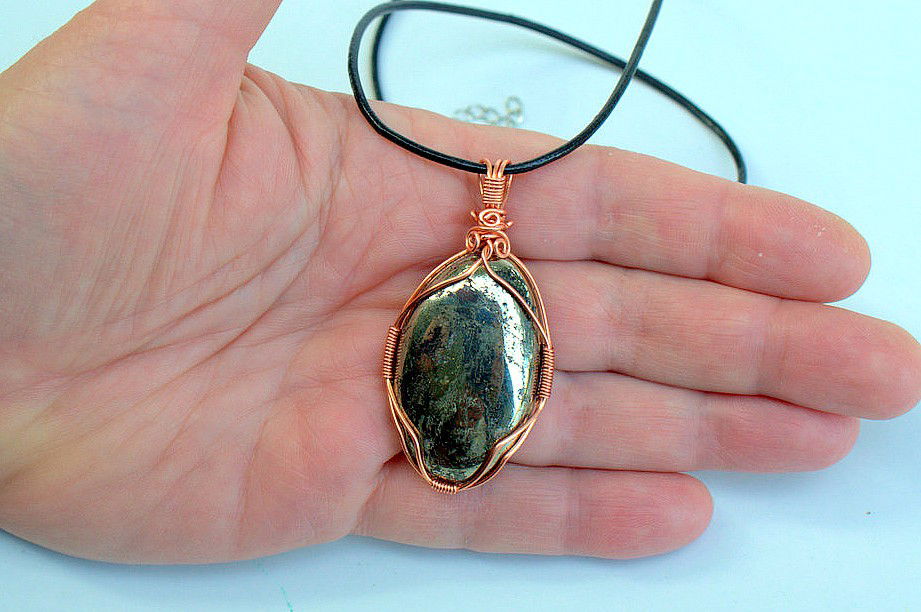 Fool's gold necklace, Apache gold pendant