Natural fragmented yellow Jasper pendant. It's another unique type of stone what's named by the location it fund Californian origin Stone canyon or Stony creek Jasper pendant, drilled with 1 mm hole and set with sterling silver 21 gauge round jewelry wire twist cap style hanger, and with a silver plated 20" x 1.5 mm snake chain necklace. This type of fragmented stone broken looks like flakes showing, called Brecciated Jasper The pattern caused by earthquake, or other tectonic movement, the mass stone is shattered and re-compounded again over millions of years under volcanic activity, heat and pressure. A very interesting specimen, the pattern sometimes looks like a satellite map. Because of the size and the bright color, it's recommended for tall girls or women.

stone size; 58.1 x 21.9 x 6.1 mm 60.70 ct.

Sometimes Jaspers - especially from California - were broken into smaller fragments due to the tectonic movements. Later the gaps were filled in with chalcedony, quartz of greater purity, or even agate.
Free shipping to US and Canada. For International order, please contact for rates and options.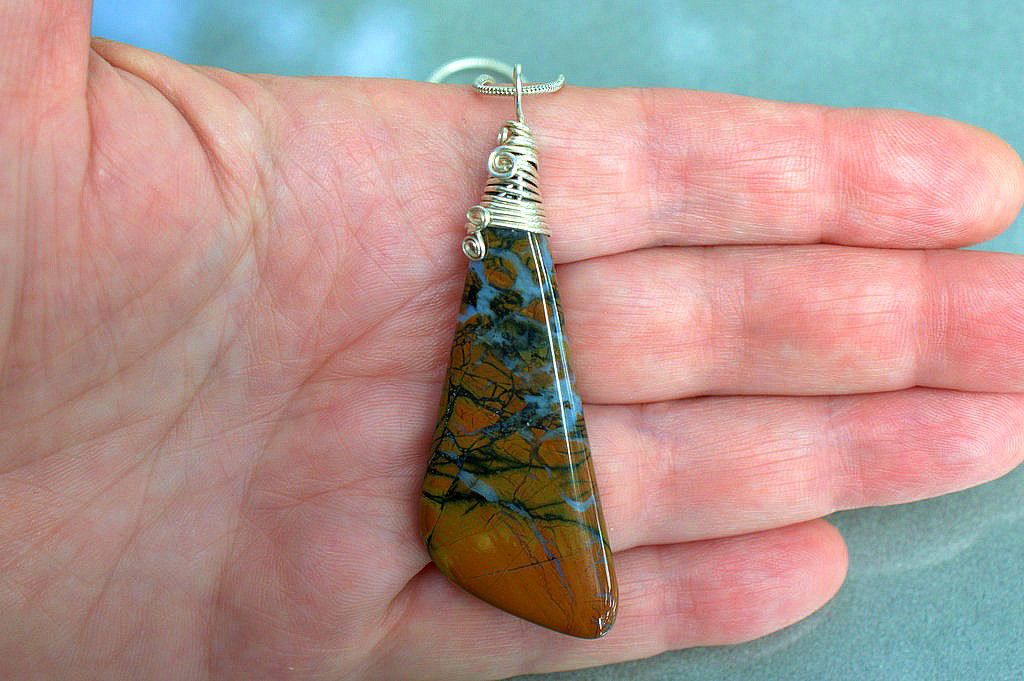 Fragmented yellow jasper pendant