Sparkly garnet crystal particles in grayish color natural Jadeite stone pendant. It might not the brightest color of gemstone, but the metaphysical properties of this specimen is a must have stone for collectors. The raw stone is from a private old stock collection, cut and polished in our shop. See the slab here, what used to cut this pendant. Jadeite is known as a cleansing stone, eliminate pollutants and detoxify the body, garnet is also a crystal what has the detox effect, but more for emotional, and negative energies. The two combined, makes almost a perfect stone to rid of all unwanted elements.
It's a medium size oval shape pendant, polished on diamond wheels up to 50.000 grit smoothness and glassy shine. Set with sterling silver 21 gauge square and half round jewelry wire wrapping, and with a silver plated 20" x 1.5 mm snake chain necklace. The stone is 100% natural, we never dye, treat or alter our stone in any ways.
stone size: 39.2 x 24.3 x 5.9 mm 50.60 ct.
A one time shipping charge added at checkout. To Canada $4.40 USA $6.25 Rest of the world $20.35
We can't offer custom cutting of this specimen, the available stone was cut to pendants, however other shapes and sizes will be listed on this site soon.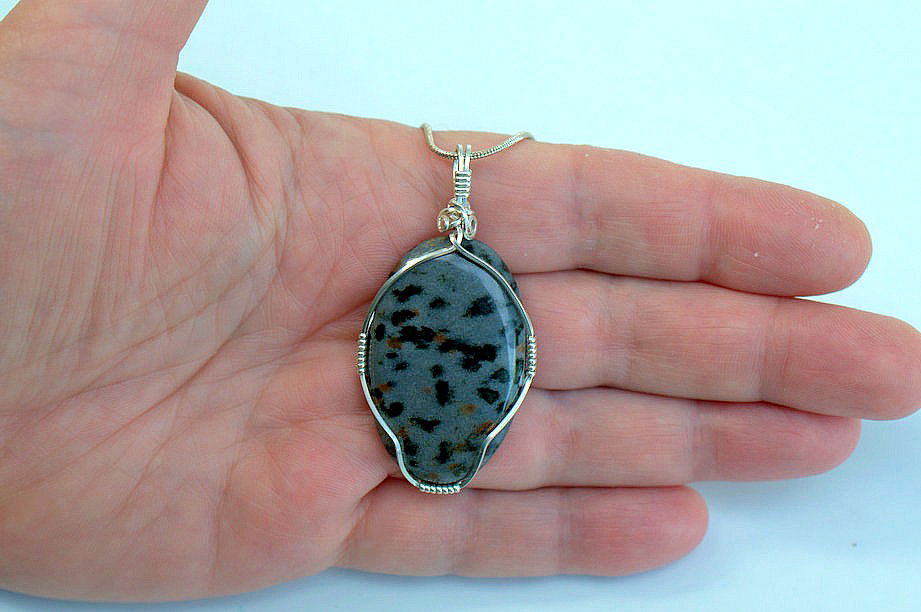 Garnet crystal in Jadeite stone pendant