No need introduction to one of the best known, and very popular blue lace agate gemstone. The delicate line pattern and light icy color makes it one of the most sought after crystal. This hand carved gemstone dolphin is the latest addition to our pendants. Stepping out of the standard shapes, we combined beauty and cuteness of the marine life.
The raw agate stone prospected in Namibia, and arrived to our shop as a decent size boulder. After test cutting, we discovered the outstanding color and the great quality as gemstone. Many other standard shape pendants available from the same stone in the gemstone pendant section.
It's a quite large size gemstone dolphin, polished all around, drilled with 1 mm hole, and set with sterling silver 21 gauge round jewelry wire created hanger. A silver plated 1.5 mm thick snake chain necklace included with the purchase of the pendant, 18", 20", 24" lengths available to choose from. Please make a note at checkout for preferred length.
stone size: 48.8 x 32.1 x 7.9 mm 64.10 ct.
overall pendant size including setting: 55.9 mm
We cut, polish and set all of our gemstones, no chemicals or harmful materials used during the process. We never die, color or alter the stones in any ways, all our pendants are 100% natural and safe to wear.
Custom cutting request is always welcome, a large collection of jewelry quality raw gemstones to choose from.
Free shipping to Canada and USA. For International shipping a $9.25 charge added to shopping cart. For US bond shipping we use USPS via chit-chat express, no custom delays or tariffs involved.
Fast delivery time, most cases 4-5 business days to north American destinations. USPS tracking code sent by email.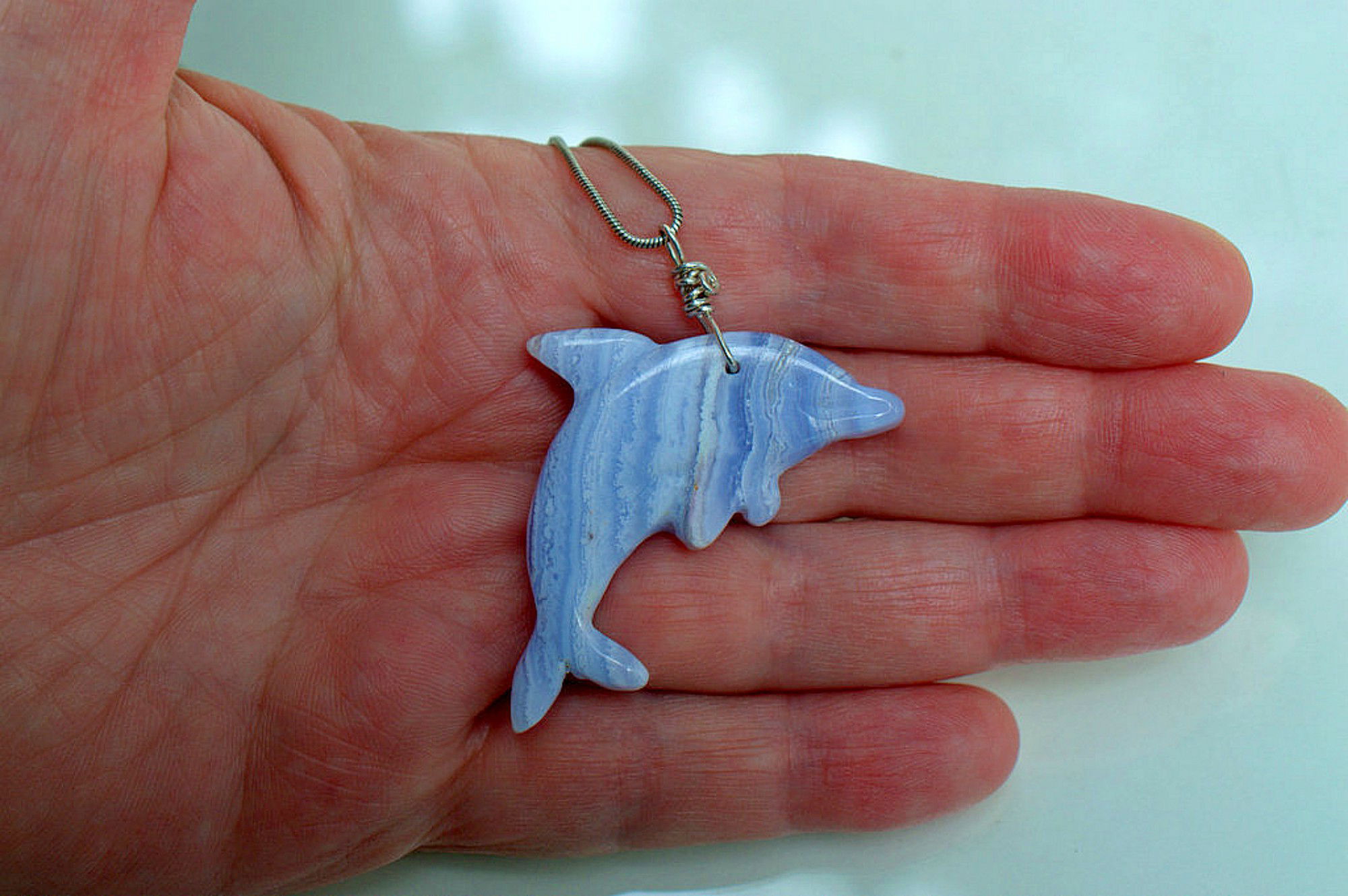 Gemstone dolphin, delicate blue lace agate pendant