This interesting gemstone jewelry handmade necklace pendant cut from a 100% natural Arizona mind Gem Silica specimen. A translucent variety of Chalcedony Chrysocolla, what is a rare only a few places on earth found stone. The blue greenish vivid color caused by copper salt, and the brown red inclusion is the host rock Cuprite. It's a well sought after gem, for collectors and jewelry makers equally. The top grade variety usually faceted to small ring and ear ring ornament. Our shop equipped only to cut larger size cobochon, what is more to show how the specimen looks as jewelry. Considered as secondary grade gemstone, originated by a so called mine run, what doesn't degrade this beautiful piece as jewelry. Hand cut and hand polished on diamond wheels to a brilliant 50.000 grit finish glassy shine and smoothness. Because of the nature of the stone's hardness 7 on the Mosh scale, it'll not scratch easily, and stays as bright as is now for a long time to come.
Set with sterling silver 21 gauge triple lined round and half round jewelry wire wrapping, a modern style method for young and for feeling young equally, shows the stone's full size, yet holds it firm and secure in place.
The pendant comes with an Italian made also sterling silver smooth 1.05 mm thick snake chain necklace, in four optional length, 16", 18", 20", 24" available please make note at checkout for preferred length.
stone size: 35.3 x 18.9 x 8.1 mm 45.10 ct.
overall pendant size including chain ring, 50 mm
total weight without necklace 11.40 gram.
Free shipping to Canada and USA. International shipping available with estimated USPS rates, please contact with destination for quote.
A large collection of jewelry quality raw gemstones are available for custom shape and size cutting, if you look for a specific crystal for your next jewelry
piece, contact us, we might have your stone.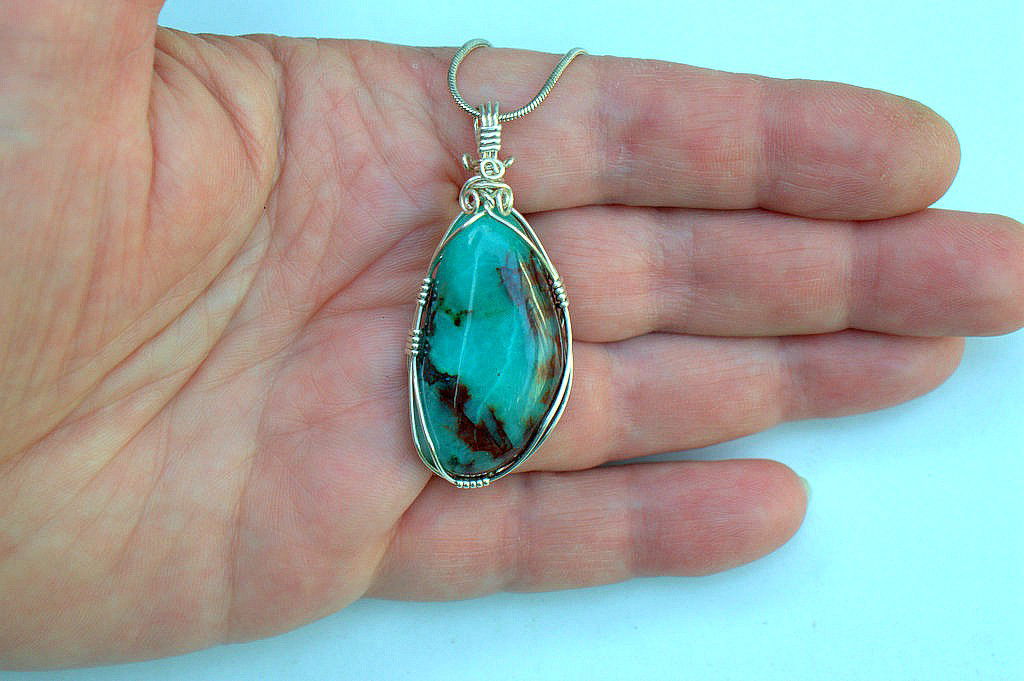 Gemstone jewelry handmade, pendant natural gem silica