Small to medium size new green color abstract sculpture. This recently finished soapstone carving inspired by the yin-yang symbol, and I named it Duality. The raw stone is Brazilian mined deep green with some brown clouds like color inclusion. Hand carved with basic hand tools, files and rasps, polished with standard water prof sand papers to a bright shine. Sealed and buffed with natural non toxic bee wax. The base stone is a round shape natural beige color limestone polished as well, also the signature and date is on it. The sculptures is pinned and stone epoxy glued to the base.
Symbolism is the major source of my carvings, I can express my feelings in simple shapes and forms, yet I can suggest an artistic message hidden inside.
Soapstone is a metamorphic fine grained rock, best known for its quality of holding heat, when displayed as a carving, picks up the room temperature relatively fast, and keeps it for a long time. The static created by the heat, attracts tiny dust particles from the air, what can fade the shine of the sculpture. A few drop of olive oil and a soft cloth buff if recommended every other months once displayed.
10" x 3.75" x 2.75"
25 x 10 x 7 cm.
1.766 kg.
I can personalize it by adding names, short message by carving or engraving, whatever fits on base stone,.
Soapstone and alabaster raw carving stone is always on stock, custom carving of your idea available. Please contact for available colors and sizes.
Free fast shipping to Canada and USA. For International shipping, please check estimated rates here. An alternate cost effective shipping method might be also available with ASENDIA, please contact with destination info. Not all countries supported.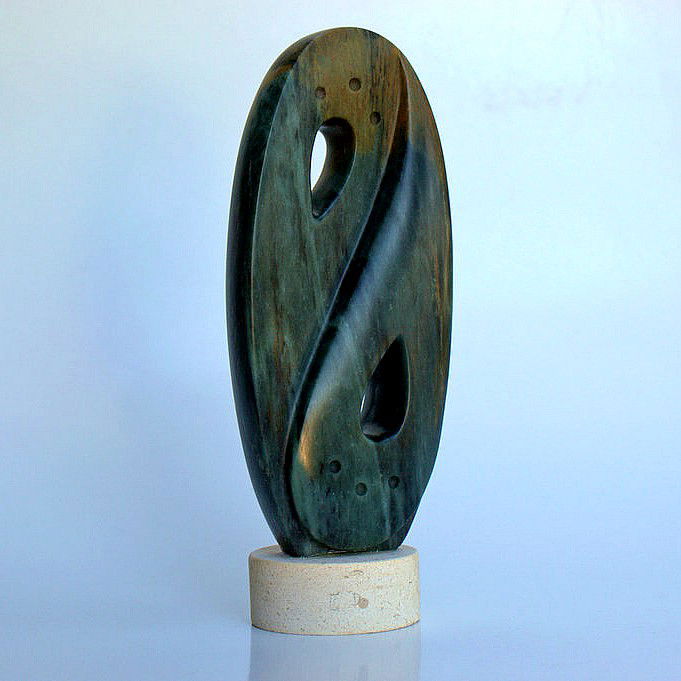 Green color abstract sculpture, soapstone carving