Amazonite gemstone is a stunning crystal just by itself, with its silvery sparkles when bright light reflect on it, attracts many admirers. When you mention it properties, makes it the perfect jewelry to have.
Amazonite called the stone of truth and the stone of courage, believed to bring excellent judgment, and can moves us beyond fear. As a metaphysical healer, aligns the physical body, by regenerating cells in general. The most used crystal to gain energy after injuries, or surgery.
It's a nice long piece of handmade jewelry, with bright shiny polish. 100% natural, no color enhancement or treatment done on it. Polished on Lapidary diamond wheels to 50.000 grit smoothness. Drilled with a 1 mm hole, and set with sterling silver 21 gauge round jewelry wire created hanger, and with a 20" x 1.5 mm silver plated snake chain necklace.
stone size: 49.5 x 11.1 x 8.1 mm 36.85 ct.
overall pendant height: 59.2 mm
Other shapes and sizes also available, cut from the same stone. Search for it in gemstone pendant page.
Fast US bond shipping by USPS via chit-chat express, daily. No custom delays or tariffs involved, most cases 4-5 business days delivery time. Tracking provided by email within 24 hours of confirmed payment.
International shipping also by USPS, or by ASENDIA if destination available, a one time charge of $9.25 (CAD) added at checkout.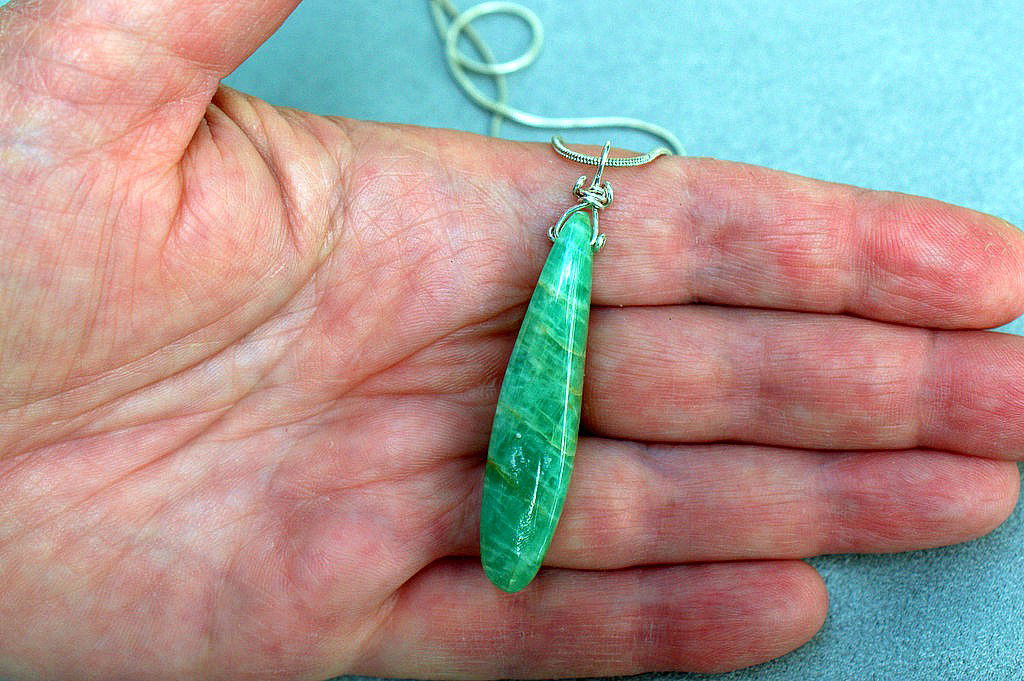 Green crystal necklace, Amazonite gemstone handmade jewelry