This Green Jade pendant cut from the stone that represent serenity and tranquility. A rich green fine grained natural British Columbia mineral, Nephrite Jade designed shape pendant with sterling silver 21 gauge triple lined round and half round wire wrap setting and with an also sterling silver Italian made smooth 20" or 24" x 1.05 mm snake chain necklace of your choice. The raw Jade specimen was prospected in north British Columbia Dease lake area, called as polar jade. Grade AAA deep green gemstone, looks beautiful when light held behind it. Hand cut and hand polished up to 50.000 grit on both sides with domed face and flat back. The wire wrapping is a stylish simple design focuses to the stone. A limited quantity of the same raw Jade still available for custom size and shape cuts, for request.

stone size: 39.6 x 20.1 x 5.3 mm 39.05 ct.
overall pendant height: 54.8 mm

Green Jade will also instill courage and compassion in you. The more wealth and abundance that you receive, the more generous you will also become.Jade is also your trusted companion on any spiritual adventure
Free shipping to US and Canada. For International order, please contact for rates and options.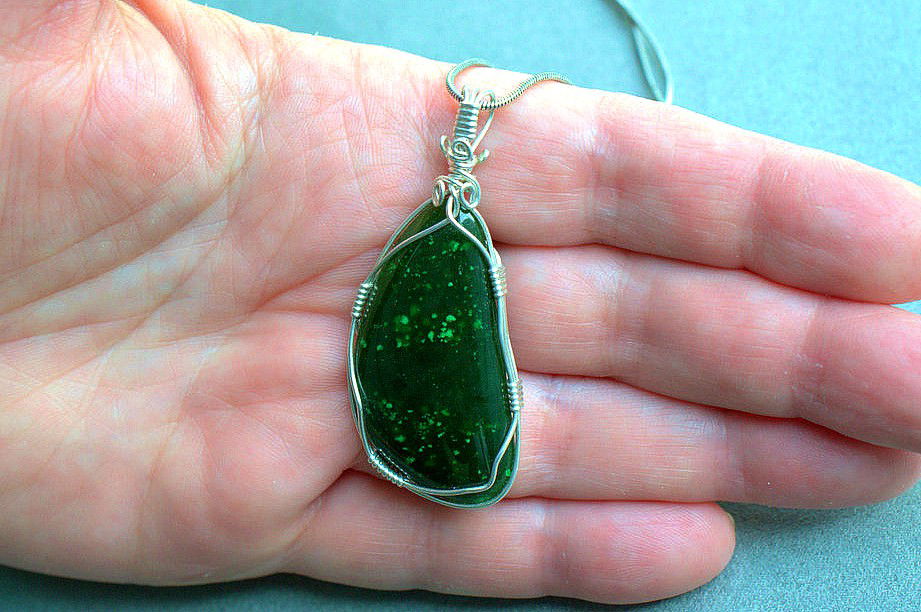 Green Jade pendant designed Nephrite mineral necklace