Aventurine is a variety of quartz, the bright green color is caused by the inclusion of the Mica mineral, what makes this stone sparkly as well. Also known by the name of Indian Jade or new Jade.A popular healing stone, and it said one of the best crystal to enhance homeopathic remedies. Mostly recognized for its anti-inflammatory effect, especially for skin related illness such as eczema and rosacea.
For emotional healing, is a good stone for soothing nervousness, anger and stress. Aventurine is often called as the luckiest crystal, not because it's attracting good fortune, more like it's a guiding energy, that shows the way to the opportunities, to winning situations.By wearing this green mineral stone as the gambler's stone,it said attracts good hands in card games.
It's a natural untreated translucent crystal, the tiny particles sparkles best in daylight especially in sunshine. The pendant is a designed shape cut, polished with an eight step method on diamond wheels, up to 50.000 grit smoothness and shine. Set with a stylish but simple wire wrapping, what focuses more to show the stone than the setting. The sterling silver 21 gauge square and half round jewelry wire safe setting makes it a long lasting piece. The pendant also comes with a silver plated 20" x 1.5 mm snake chain necklace. The 20" length is the average size, if you prefer a longer 24" or shorter 18" necklace, please make a note at checkout.
A limited quantity of raw Aventurine, the same stone, still available for custom size and shape cutting. Deeper green with some line pattern from a different region also available.
stone size; 40.4 x 22.8 x 7.9 mm 54.80 ct.
Free shipping to Canada and USA. For international order, please see estimated rates here, or contact with destination. An alternate cost-effective shipping method might be available with ASENDIA.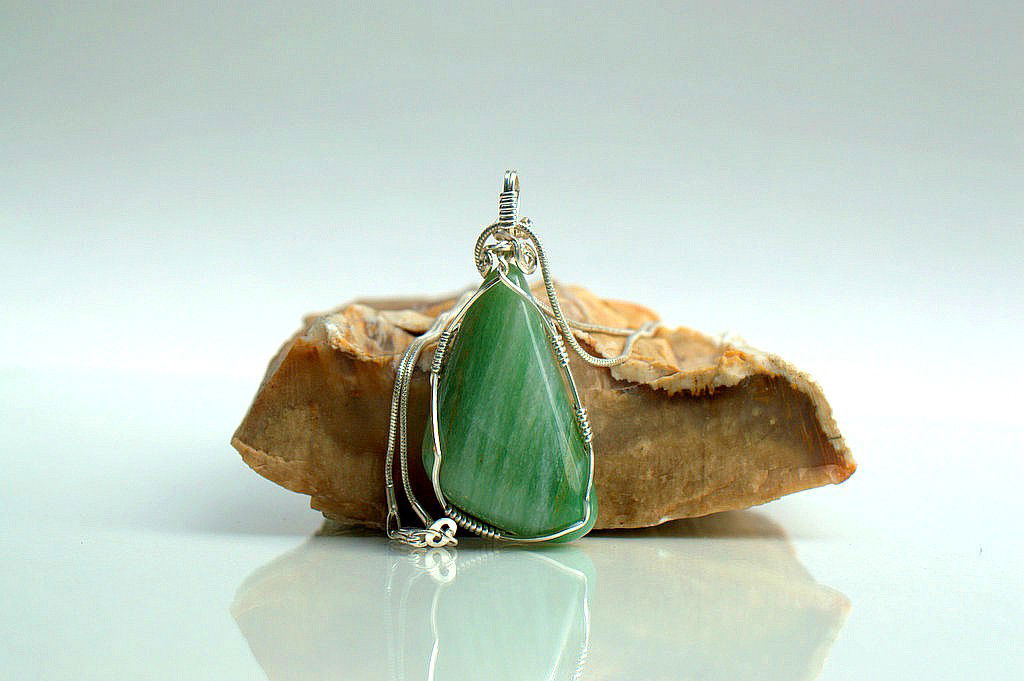 Green mineral stone Aventurine necklace