Malachite is green natural mineral, known for its copper ore content. The first stone in human kind history, what lead as to the discovery of this precious metal. The today's technology proved, because of its low copper percentage of ore deposit, best use for its beauty as a jewelry.There isn't two cut stone identical, the wonderful twisting swirling pattern made this mineral very popular for jewelry making over centuries. In the spiritual world deep green represents the inner beauty of nature, trees ,plants, and all of its healing energy. A well known stone for its protective properties, the best talisman for travelling. Soothing fears of flying, and comforts us to enjoy our voyage.
This pendant is cut to an oval shape, the smooth line pattern radiates a spiritually inviting energy. Polished to a brilliant shine, set with sterling silver 21 gauge square and half round jewelry wire wrapping, what is designed to show the stone as much as possible, yet holds it firm and safe in place. The pendant comes with a silver plated 20" x 1.5 mm snake chain necklace. Sterling silver Italian made 1.05 mm also available in 18" 4.09 gr. 20" 4.54 gr. 24" 5,45 gr. lengths at wholesale price. Please contact if you wish to upgrade.
stone size: 36.4 x 22.1 x 6.8 mm 73.90 ct.
Custom shape and size cutting available, however as mentioned above, no two stone look alike, the pattern cannot be guaranteed.
We also have a large collection of raw natural jewelry grade crystals and minerals, if you looking for a specific stone, please drop us a line, we might have your stone.
Free fast shipping to Canada and USA. For international orders, please check estimated rates at top right highlighted menu button, or contact with destination. A cost effective alternate shipping method with ASENDIA, might be available. (not all countries eligible )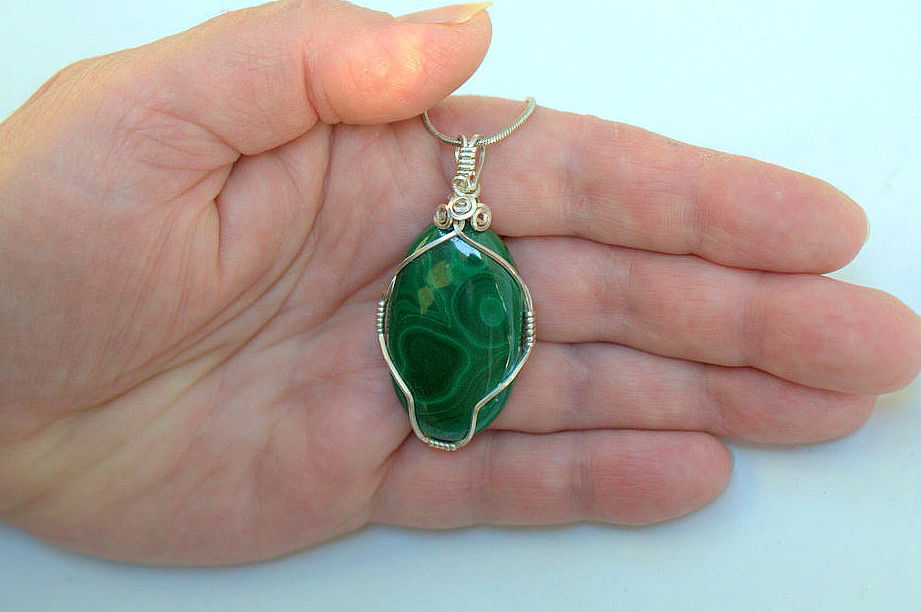 Green natural mineral Malachite pendant necklace